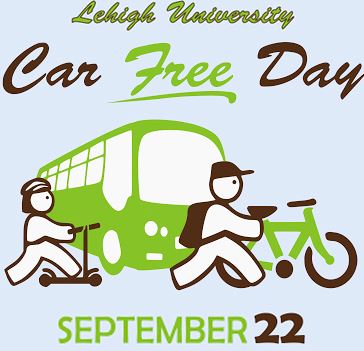 Car Free Day is a worldwide event on September 22 that encourages alternative methods of transportation on your commute and throughout your day. By reducing and eliminating car use (on September 22 and every day!) you can improve your physical fitness, reduce your carbon footprint, enhance mindfulness & creativity, and save money. Achieve this and more by joining your Lehigh colleagues on Car Free Day.
Join your colleagues and make the Car Free Day Pledge!
When you sign the Car Free Day pledge, you will be automatically entered into a raffle to win a bike and Snapchat sunglasses and you will also receive a Lehigh beverage coupon!  Be sure to stop by the Office of Sustainability booth at the Car Free Day street fair on September 22 from 11am-1pm to pick up your coupon!
Car Free Day Street Fair
- When: September 22nd from 11am-1pm
- Where: Packer Avenue between Vine Street and Webster Street
- What: There will be booths with representatives from Lehigh clubs and local organizations.  We will also be unveiling Lehigh's new all electric bus at 12:15pm!  There will also be a free bike ride sponsored by the Coalition for Appropriate Transportation.  Lehigh Dining Services will have free smoothies and healthy snacks at the street fair...while supplies last.
Student Info
Instead of driving to class, learn about the bus routes at Lehigh and schedules and plan on taking the bus throughout the day.
Instead of using your car, use a Zagster bike and ride around Bethlehem to do errands.  Bikes are located at the top of the stairs leading down to Farrington Square. $15/year for unlimited rides!
Faculty/Staff Info
Find a carpool buddy for Car Free Day! Use your Lehigh username and password to sign in to zimride.com/lehigh, a fun and easy way to share the seats in your car or catch a ride.
FAQS
How does Car Free Day help Lehigh? Lehigh strives to create a sustainable campus that merges environmentally responsible solutions (such as going car free) with equitable community practices (such as carpooling with your colleagues) and economic prosperity (saving money). Participation in this event is one of many ways you can help Lehigh integrate the three pillars of sustainability throughout the university.
In a survey distributed to Lehigh faculty and staff in 2014, 90.1% of respondents said they use single occupancy vehicles to get to campus. Since the average car releases 300 pounds of carbon dioxide for every 15 gallons of gasoline (Car Free Network) we have the opportunity to make a big impact with a small change. Let's go Car Free once a year, once a month, or even every day!
How does Car Free Day help me?
Walking or biking to work improves your physical fitness

Reducing car use lessens your carbon footprint

Less gas = saving money

Carpooling helps you bond with your colleagues
2016 Results