Lehigh's Game Day Challenge football game will take place on September 16, 2017 vs. Yale!
For the fifth year in a row, the Office of Sustainability will partner with Dining Services, Athletics, Facilities, and Brickman to raise awareness on waste reduction through this national competition. The Game Day Challenge is a competition against other universities across the nation through five categories in which universities can win by reducing waste. These categories are Waste Generation, Recycling, Organics Reduction, Diversion Rate, and Greenhouse Gas Reduction. All categories are scored on a per capita basis. 
2016 Results
In 2016, Lehigh focused on the Diversion Rate category and had a waste diversion rate of 36.77%.  See the full results below!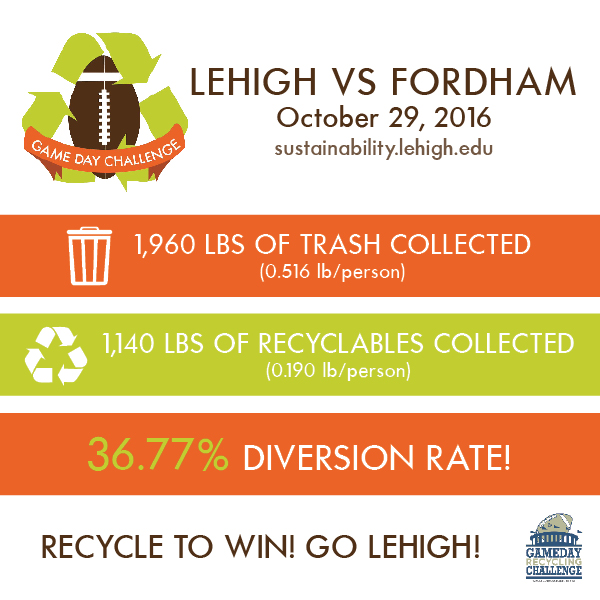 Lehigh's recycling is single stream, which means you can throw all recycling in one bin! All plastic bottles/cups #1, 2, 4 5,7, aluminum, glass and paper can all be recycled.
Things to Know
1. Watch out for your #6 plastic solo cups during tailgates; those cannot be recycled here, so try to bring recyclable or reusable cups instead.
2. Volunteers in green vests will be coming around during tailgates to pass out recycling and trash bags with informational fliers to help fans recycle.
3. Volunteers will also be engaging fans with games and giveaways (just wait for the Game Day golf cart to drive past your tailgate area).
4. Visit our tent in the stadium to get more information and participate in our challenge. 
Email us at sustainability@lehigh.edu if you have any questions.