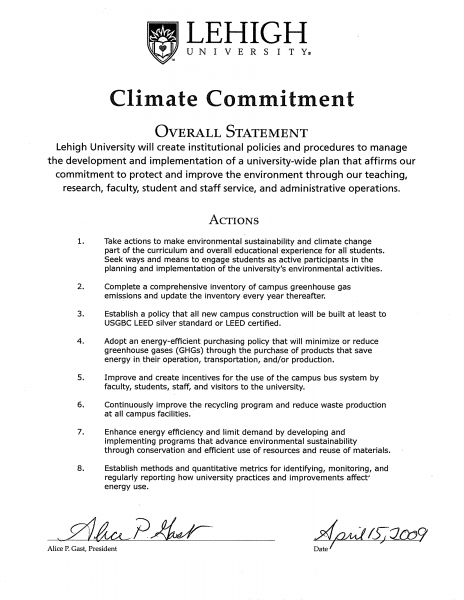 On April 15, 2009, Lehigh University moved forward in its commitment to the environment by pledging to make environmental sustainability and climate change an institutional priority. 

At an Earth Day celebration held at Lamberton Hall, Lehigh President Alice P. Gast signed the Lehigh University Climate Commitment, which will create institutional policies and procedures to manage the development and implementation of a university-wide plan that affirms Lehigh's commitment to protect and improve the environment through its teaching, research, faculty, student and staff service, and administrative operations.
By signing the Climate Commitment, Lehigh pledges to make environmental issues part of its overall mission. A few of the actions put forth in the document include completing a comprehensive inventory of campus greenhouse gas emissions and updating the inventory every year thereafter; establishing a policy that all new campus construction will be built at least to the U.S. Green Building Council's LEED (Leadership in Energy and Environmental Design) silver standard or be LEED certified; and making environmental sustainability and climate change part of the curriculum and overall educational experience for all students.