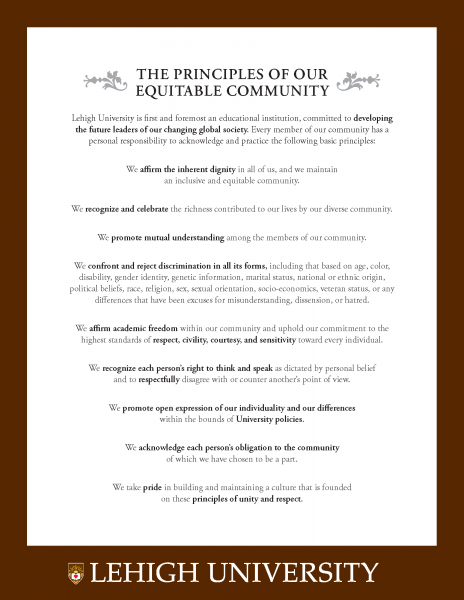 The Lehigh community is devoted to creating a rich educational experience and committed to creating an environment where we all learn, work, and live together, transcending racial, cultural, and other boundaries. Students flourish in an academic environment where they can and do learn from their life experiences as well as from the diverse backgrounds and opinions of those around them. Every member of our community has a personal responsibility to acknowledge and practice the Principles of our Equitable Community.
Lehigh University has a strong commitment to creating an environment that values diverse individuals, and faculty, staff, and students are encouraged to contribute their perspectives to guide the success of our institution. To sustain Lehigh's excellence, our campus is interested in creating and maintaining a community that practices the principles of equity and respect for all.
Our commitment to creating a sustainable culture of diversity has long been endorsed by Lehigh's Board of Trustees and its subcommittee on diversity. Early in 2006, the subcommittee supported a diversity resolution that remains today, encouraging the exchange of ideas and viewpoints in the pursuit of knowledge and truth.
Visit the Equal Opportunity section of our site to read about Lehigh's commitment to fairness and to access Lehigh's official non-discrimination and equal opportunity policies. Several other key policies and statements reflecting Lehigh's commitment are mentioned below.
For a comprehensive list of Lehigh's official policies and reports related to diversity and inclusion, please visit our general counsel's webpage. From there, you can find information concerning Human Resources, Athletics and Student Affairs. Additionally, the Office of the Provost and Vice President for Academic Affairs provides a comprehensive list of faculty-related information and resources.
Lehigh also supports an independent and confidential Ombuds Office, which is open to all members of the Lehigh community. The Ombuds Office can resolve problems or complaints within the university and achieve equitable settlements; furthermore, an anonymous Bias Response Protocol has been put in place to ensure the fair treatment and respect of every member of the Lehigh community.