What: Lehigh University celebrates Earth Day by hosting two weeks of educational and engaging events. Join campus groups, notable speakers, and community members in one of the many scheduled events.
When: April 8-23, 2017
Where: Across Campus!
Why: Earth Month is an opportunity to celebrate the beauty and bounty of our planet, while also embracing our responsibility to curb our environmental impact and protect the earth for future generations.
Who: We encourage all interested clubs, departments, and groups affiliated with Lehigh, as well as off-campus vendors to participate. If you plan to host an event in April with an environmental, sustainability, or Earth Day theme, let us know by March 1st and we'll publicize it on our calender. Want to be involved in the Earth Day Fair? Scroll down for more information.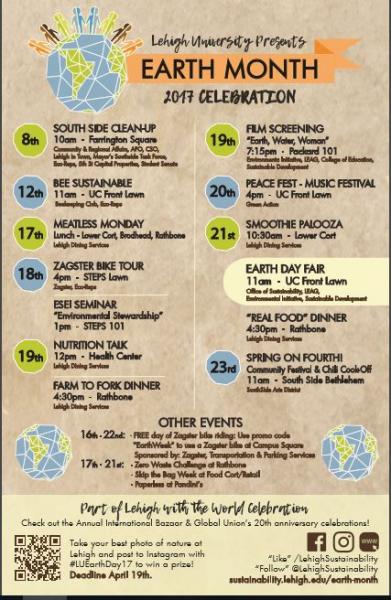 Earth Day Fair 2017
-Friday, April 21, 2017
-11am to 1:30pm
-UC Front Lawn (STEPS Concourse)
Please join the Lehigh University community in celebrating Earth Day 2017 at our vibrant, outdoor Earth Day Fair. This well-attended event seeks to enhance community and quality of life, educate on sustainable living, and encourage environmental stewardship. During the fair, students and members of the community will have the opportunity to learn from and interact with dozens of great booths that feature things like wildlife, "real" food, and more. 
Host a booth at the 2017 Earth Day Fair:
​We look forward to your applications to host a booth at this year's fair. We encourage you to plan intriguing and interactive booths (games, food/drink samples, art installation, craft projects, etc.). This fair is a great opportunity to share the message of your organization and to invite students, faculty and staff to participate in your events and programs. Feel free to contact us at sustainability@lehigh.edu for help brainstorming a fun booth.