The Lehigh Community Garden is located on Goodman Campus. Community gardens are multifaceted resources that help communities stimulate development and social interaction, produce nutritious foods, beautify neighborhoods, and preserve green space. Our garden is only open to university faculty, staff, students, alumni (sometimes family and friends). Faculty, staff, and students are able to purchase a plot to grow their own produce on campus. Most of the gardeners are staff members at the University.
Currently, there are no plots available at the Lehigh Community Garden. If you would like to be added to the waitlist or would like more information about participating in the Lehigh Community Garden, please contact sustainability@lehigh.edu.
About Lehigh Community Garden
The Lehigh Community Garden is located near Transportation Services on Goodman Campus. 
View the garden on Google Maps. 

Annual plot fees are $40/year for non-students and $30/year students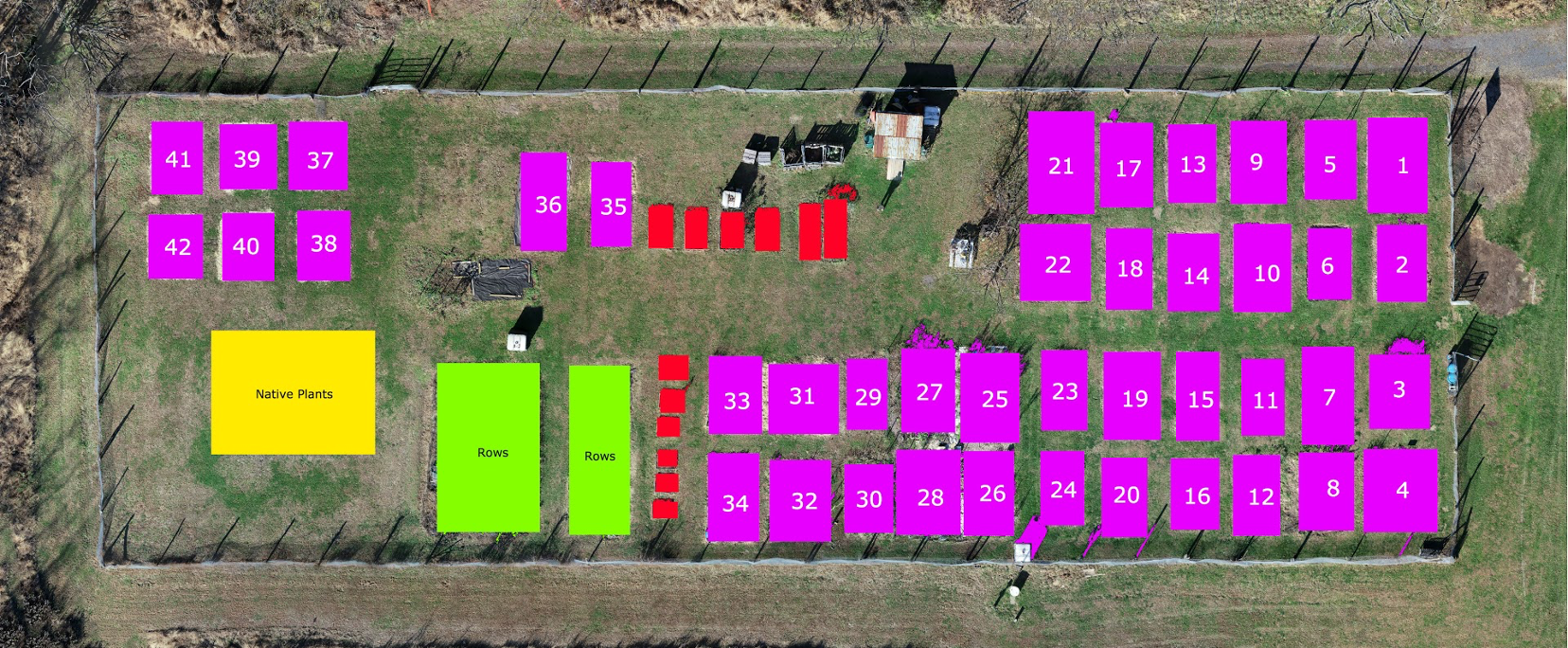 42 beds of varying sizes between 10'x12' & 14'x16'  

Two oversized beds = Rows

Two sets of raised beds (tended by members for community use)

Plot 14 is a collective bed for herbs

One of the raised beds (red) is for berries

Native Plants area (Yellow plot) tended by one of the members
Newly expanded compost center

Newly established "Mulch Drop Zone" (leaf mulch provided at no cost)

Two storage sheds 

one for general use by members for storage of common-use garden tools and supplies

one for storage of the garden's power equipment (e.g. tiller, mower, trimmer, fuel and related supplies used by garden's Mowing and Trimming Team)

Native plants area 

Solar powered water system (no diesel generator)
Gardeners spend two (2) hours per month performing work in the garden unrelated to their own plot(s).  This is met by virtue of membership and active participation on one of the garden's teams:
​Shed Maintenance

Fence Maintenance

Mowing and Trimming

Composting

Grounds Maintenance
Lehigh has agreed to keep the Lehigh Community Garden open to gardeners on the condition that we follow a number of safety practices to protect against COVID-19. As a source of food, peace of mind, and social connectedness, the Lehigh Community Garden is valuable to our health. Our continued access to the garden depends on each of us following these expectations.
The Office of Sustainability manages the garden's operations.

A Steering Committee oversees day-to-day operations. The committee is made up of members who lead the various teams and identify garden priorities and projects.

BrightView Landscaping assists with mowing each season and provides leaf mulch

ABM assisted with the water pump

Diefenderfer electricians helped with the solar panels