Help us support our community AND grow your business! The Bethlehem Farmers' Market welcomes sponsors for the 2023 season.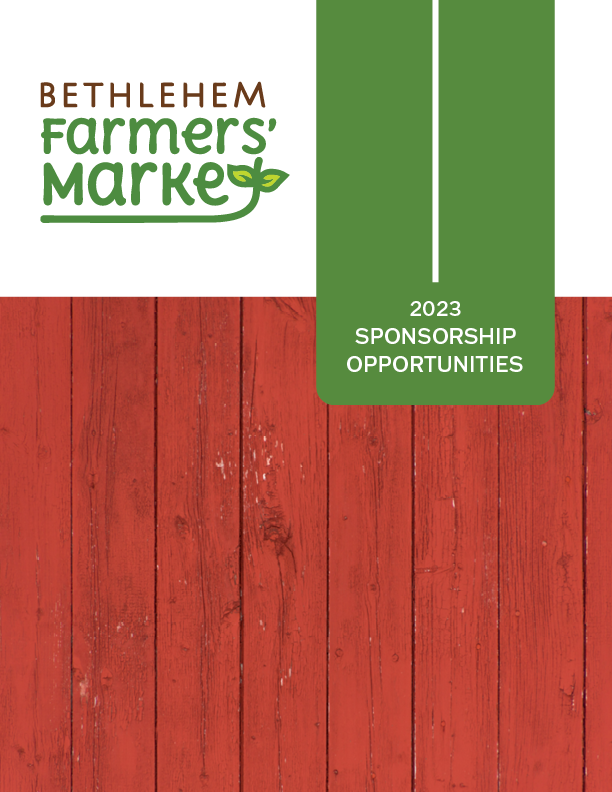 As Bethlehem's first and longest-running local, producer-only farmers' market, we're working to address our community's food desert issues, we are educating our neighbors about nutrition and healthy eating, and we are supporting non-profit and community partners, local businesses, and local farmers. In addition to bringing fresh food to Bethlehem's southside, our market acts as an economic incubator for small businesses and farms in the Lehigh Valley. 
In order to grow and better serve our community, we need your help! By becoming a sponsor at any level, you will help us achieve goals that will benefit the Southside community. In turn, your business can benefit from the exposure and visibility our market offers: in 2019, an average of 1.8k people visited the Bethlehem Farmers' Market each Thursday during the season. Our weekly email newsletter goes out to more than 800 subscribers, and our active social media accounts reach thousands of followers. 
Please take a look at our sponsorship packet and consider becoming our partner in bringing fresh food and flavor to Southside Bethlehem. Don't hesitate to contact us if you have any questions: you can reach us via email at bethlehemfarmersmarket@gmail.com or 610.758.1220.
A Special Thank You to all of our 2023 Sponsors!