Lehigh recycles electronic waste (e-waste) through campus-wide collection events. In 2016, Lehigh recycled approximately 22 metric tons of e-waste! E-waste is any discarded electronic devices that are destined for reuse, will be resold, salvaged, recycled, or disposed of.  
These campus-wide collection events allow departments to responsibly recycle their unwanted e-waste owned by Lehigh University.  Faculty/staff may also bring in their unwanted personally-owned desktop, laptop, and tablet computers for disposal.  Although the disposal team will erase hard disk drives, you should erase your own drives for added peace of mind.  Instructions for erasing your hard disk drives.
Where Do I Recycle Electronic Waste?
Lehigh has campus-wide electronic waste collection 1-2 times per year (typically in the fall and spring).  During one of those collection periods, you must register your unwanted computers, printers, and peripherals on a designated website that is announced during each collection event.  You will then receive an email confirming the day, time, and pick-up preparation instructions.  
What Electronics are Recyclable?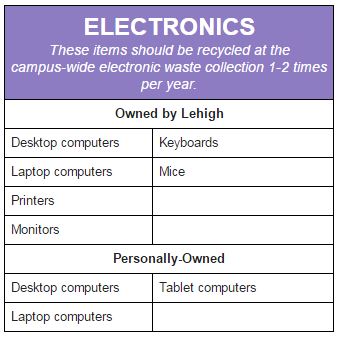 Questions?
For more information contact Gary Falasca (ex. 83972 or gf02@lehigh.edu).