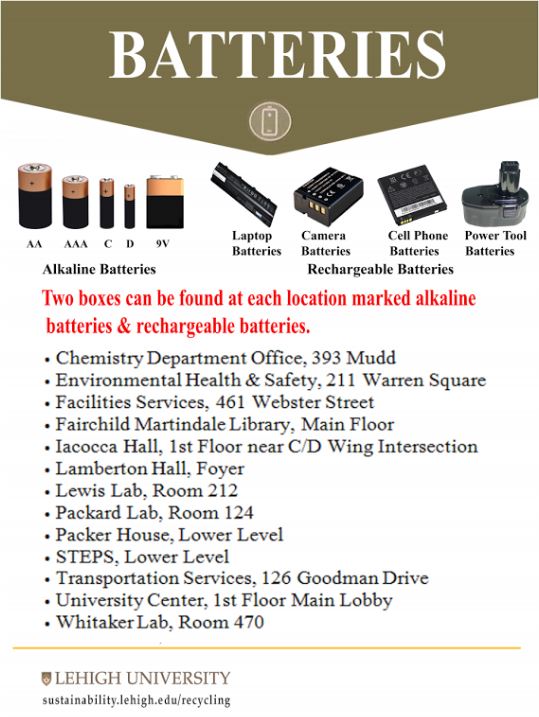 Lehigh University is implementing a battery recycling program coordinated by Environmental Health & Safety and the Office of Sustainability. Rechargeable batteries used in power tools, cell phones, and other devices may contain metals such as cadmium, nickel and lead. Alkaline batteries (non-hazardous), commonly known as AAA, AA, C, D and 9-volt, are not regulated waste. All batteries should be disposed of properly.
How-To Participate:
Battery recycling boxes are located at the following locations. If you are unable to access a box, please reach out to the contact for that building. 

Chemistry Department Office, 393 Mudd  (Contact: Marge Sawyers)

Environmental Health & Safety, 211 Warren Square (Contact: Elaine Kuchera)

Facilities Services, 461 Webster Street  (Contact: Betty Bramblet)

Fairchild Martindale Library, Main Floor (by elevators) (Contact: Stacey Kimmel-Smith or Annie Pecsek)

Iacocca Hall, 1st Floor near C/D Wing Intersection (Contact: Lee Graham)

Lamberton Hall, Foyer (Contact: Andrea Barker)

Lewis Lab, Room 212 (Contact: Rich White)

Packard Lab, Room 124 (Contact: Dick Towne)

Packer House, Lower Level  (Contact: Amy McCrae)

STEPS, Lower Level (Contact: Joe Seem)

Transportation Services, 126 Goodman Drive (Contact: Mikki Maderas)

University Center, 1st Floor Main Lobby (Contact: Connie Rizzo)

Whitaker Lab, Room 470 (Contact: Sue Stetler) 

Two boxes can be found at each location, marked rechargeable batteries & alkaline batteries.

Please cover all terminals with adhesive tape prior to disposal.

Drop taped battery into appropriate box. The volunteer and Environmental Health & Safety will arrange for disposal when box is full.
Batteries and Cellphones Accepted
Rechargeable Ni-MH (Nickel Metal Hydride)

Rechargeable Ni-Cd (Nickel Cadmium)

Rechargeable Ni-Zn (Nickel Zinc)

Rechargeable Li-Ion (Lithium Ion)

Alkaline, Lithium and other non-rechargeable batteries (AAA, AA, C, D, 9 volt)

All models of cellphones and their batteries

rechargeable batteries up to 11 pounds each
Batteries NOT Accepted
Small Sealed Lead Acid (SSLA/Pb)

Wet cell Ni-Cd

Wet cell lead acid vehicle batteries

For more information contact Elaine Kuchera (ex. 84248 or emk3@lehigh.edu) or visit Lehigh University's Environmental Health and Safety Department's website: www.lehigh.edu/~inehs