Lehigh has single stream recycling, which is when clean cans and bottles are mixed together in the same blue container with paper and glass.  All single stream recycling from indoor and outdoor bins is hauled to a facility where it is sorted and recycled.  The success of this system depends on individuals only placing recyclable items in the blue recycling bins and making sure that items are empty and free of food residue.
Where Do I Recycle?
Offices and Academic Buildings: Please look for designated bins and recycling areas in your building.

Residence Halls and Greek Houses: Blue recycling bins can be found in each trash closet in residence halls or outside the hall by the garbage toters.

Outdoor Receptacles: Metal recycling bins labeled with "recycling" can be found throughout Lehigh's campus.
*Note: All recycling bins in common spaces have clear bags inside of them.
What is Recyclable?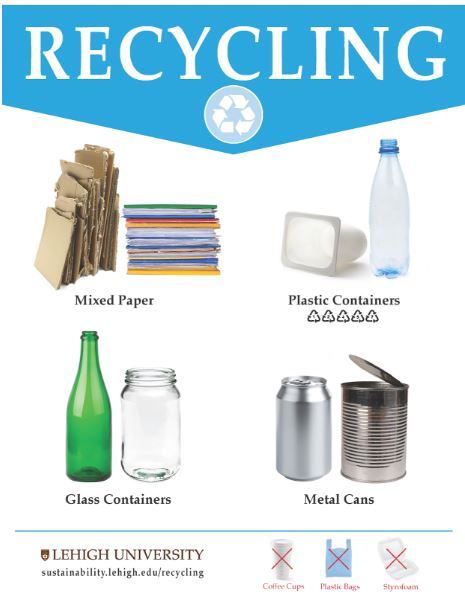 Download a copy of our recycling poster.
Download a copy of the trash and recycling list.  
Are you looking for advertising space to target the Lehigh community?  Check out the advertising options on the Big Belly trash and recycling bins in Farrington Square!
To request a trash or recycling bin, you may put in a work order.
Questions?
Contact Gary Falasca (ex. 83972 or gf02@lehigh.edu).