The Climate Action Strategy is a key component of Lehigh's Sustainability Strategic Plan 2030.
A key subcomponent of Lehigh's Sustainability Strategic Plan 2030 is the development of a Climate Action Strategy where Lehigh can demonstrate true climate leadership. A critical component of the strategy is to develop a comprehensive roadmap for measuring, planning, and reducing greenhouse gas emissions. It will outline a set of energy efficiency projects that will reduce emissions and save the institution money. It will also establish greenhouse gas emissions reduction targets and a future carbon neutrality date, subject to Board approval.
The process for developing the Climate Action Strategy will take 6-8 months and includes:
Technical assessment - Reviewing legacy reports, conducting building energy audits, and doing energy project financing analysis

Experiential learning - Opportunities for our students to use our campus as a living laboratory

Connect with the community - Opportunities to learn, ask, and get involved

Mapping out pathways - Developing emissions reduction pathway options to present to the Board to establish a carbon neutrality goal

Final report - Maps out near-term, intermediate, and long-term goals
This project involves many stakeholders including the Office of Sustainability, LU Facilities, the Stone House Group (local engineering consulting firm), and Trust (engagement consulting firm). The Lehigh Industrial Assessment Center and Energy Systems Engineering are also involved in the 35+ building energy audits and data analysis through experiential learning opportunities.
Many of Lehigh's peer institutions have established carbon neutrality goals and, with support of their senior leadership and Boards, have developed Climate Action Plans that outline how they intend to meet their climate goals. By developing this strategy, we will also be upholding Lehigh's 2009 Climate Commitment, in which Lehigh vowed to create institutional policies and procedures to protect and improve the environment, and its commitment to the 2017 We Are Still In pledge. By signing that pledge, Lehigh asserted that in the absence of federal support, it will pursue ambitious climate goals and provide leadership in reducing emissions. The City of Bethlehem is also completing a Climate Action Plan by the end of 2020. It is therefore important that Lehigh is proactively addressing climate action.
Working and Advisory Groups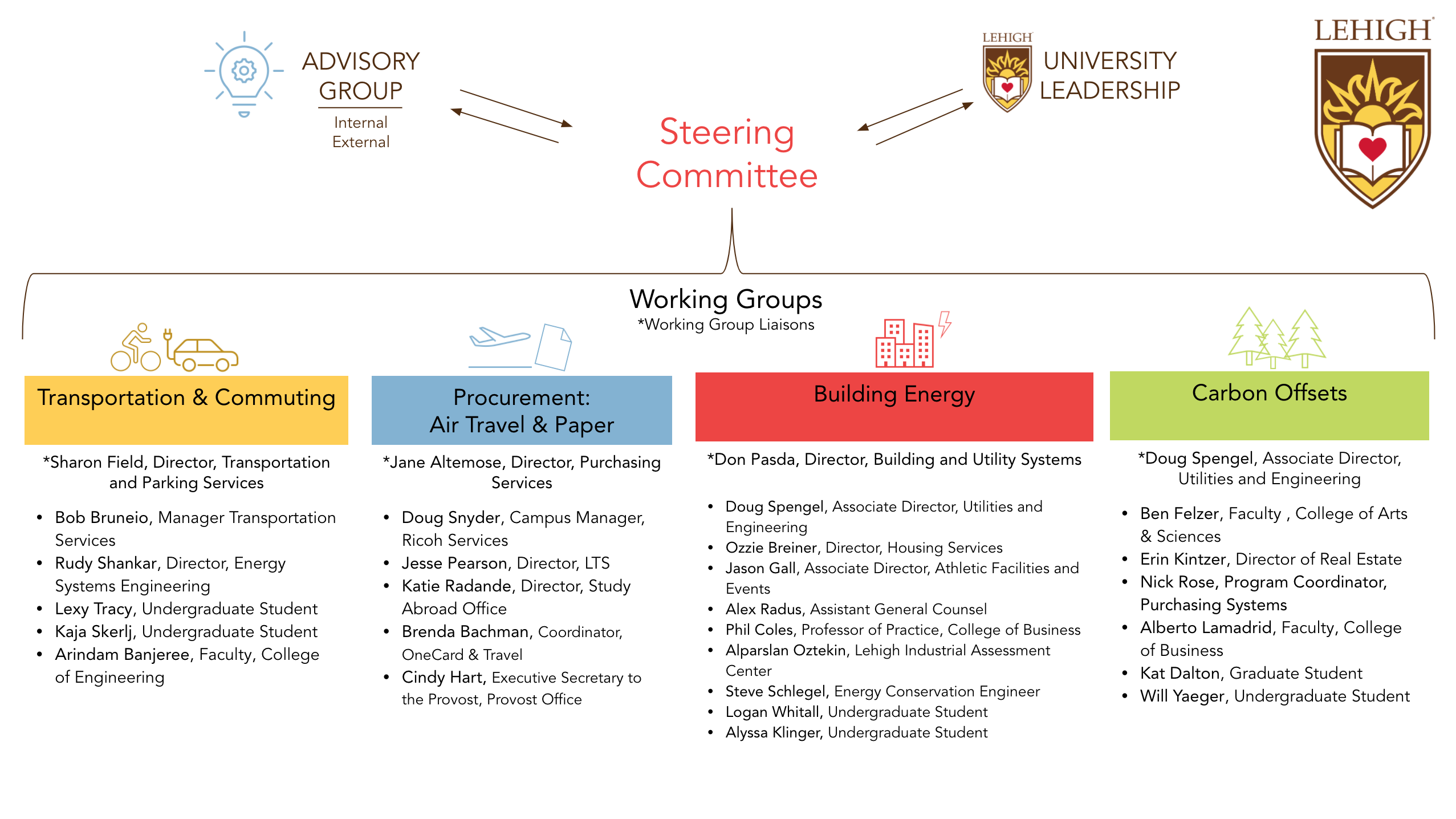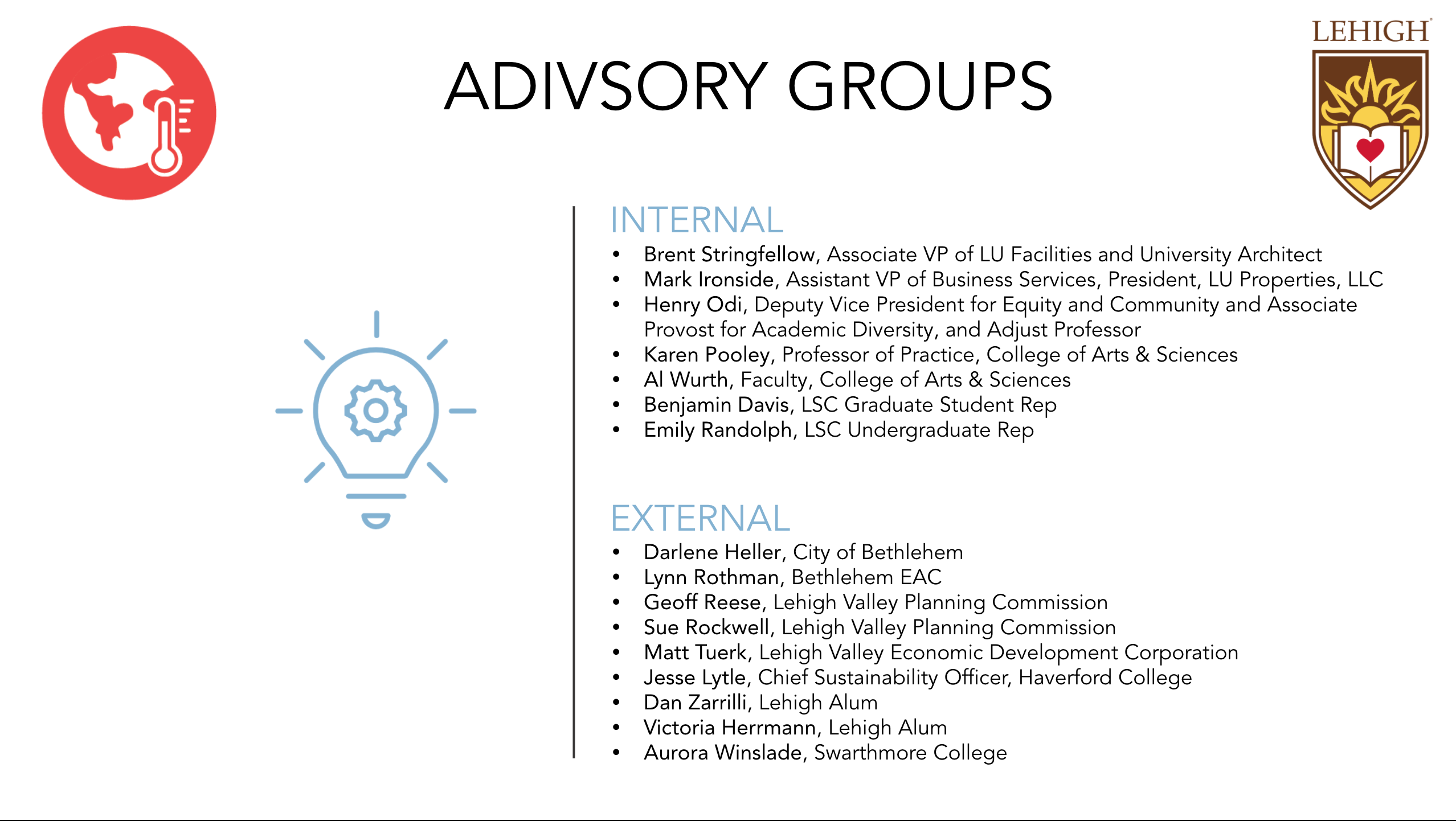 The timeline below shows the overall 6-8 month project process. There will be engagement opportunities throughout where we will be doing intentional communication and outreach. There will be future CPO updates and opportunities for input as we develop this pathway together.

Who do I contact with additional questions?
Thank you for your interest in staying up to date with Lehigh's Climate Action Strategy! There are many ways to get involved. Please share your thoughts and ask questions here.
We hosted 5 Ideation Sessions in the fall semester to gather input from the Lehigh Community. If you missed the sessions and would like to view a recording, click below.
"Our university plays an important and active role in the search for solutions to the problems of climate change."