The development and implementation of Lehigh's Climate Action Strategy is a key component of the Sustainability Strategic Plan 2030.
A key component of Lehigh's Sustainability Strategic Plan 2030 is the development and implementation of a Climate Action Strategy where Lehigh can demonstrate true climate leadership. A critical part of the strategy was the development of a comprehensive roadmap for measuring, planning, and reducing greenhouse gas emissions.  It establishes greenhouse gas emissions reduction targets and a future carbon neutrality date.  
Lehigh's Climate Action Strategy and 'Pathway to Zero' emissions will be released to campus and the community in early 2022.
The process for developing the Climate Action Strategy involved over a year of collaboration:
Technical assessment - Reviewing legacy reports, conducting building energy audits, and doing energy project financing analysis

Experiential learning - Opportunities for our students to use our campus as a living laboratory

Connection with the community - Opportunities to learn, ask, and get involved

Mapping out pathways - Developing emissions reduction pathway options to present to the Board to establish a carbon neutrality goal

Final 'Pathway to Zero' emissions and full report - Maps out near-term, intermediate, and long-term goals
The development of the strategy involved over 40 Lehigh stakeholders including faculty, staff, students, and alumni.  Lehigh partnered with The Stone House Group (local engineering consulting firm), and Trust (engagement consulting firm) to map out a 'Pathway to Zero' emissions for Lehigh to achieve net carbon neutrality. The Lehigh Industrial Assessment Center and Energy Systems Engineering were also involved in the 35+ building energy audits and data analysis through experiential learning opportunities.
Universities have a responsibility to build a better global future and, like many other higher education institutions, Lehigh University recognizes the need to responsibly lead by example through actions that reduce GHG emissions resulting from campus operations.  Implementing carbon mitigation strategies is also an increasingly important issue to incoming and current students, faculty, staff, and alumni and it fits squarely within the academic mission and research focus areas of the university.  As a premier academic institution, Lehigh is uniquely positioned to make significant contributions to address climate change.  Lehigh is furthering its commitment to climate action with the adoption of this Climate Action Strategy.  
By developing this strategy, we will also be upholding Lehigh's 2009 Climate Commitment, in which Lehigh vowed to create institutional policies and procedures to protect and improve the environment, and its commitment to the 2017 We Are Still In pledge. By signing that pledge, Lehigh asserted that in the absence of federal support, it will pursue ambitious climate goals and provide leadership in reducing emissions. The City of Bethlehem also completed a Climate Action Plan in April 2021. It is therefore important that Lehigh is proactively addressing climate action.
Working and Advisory Groups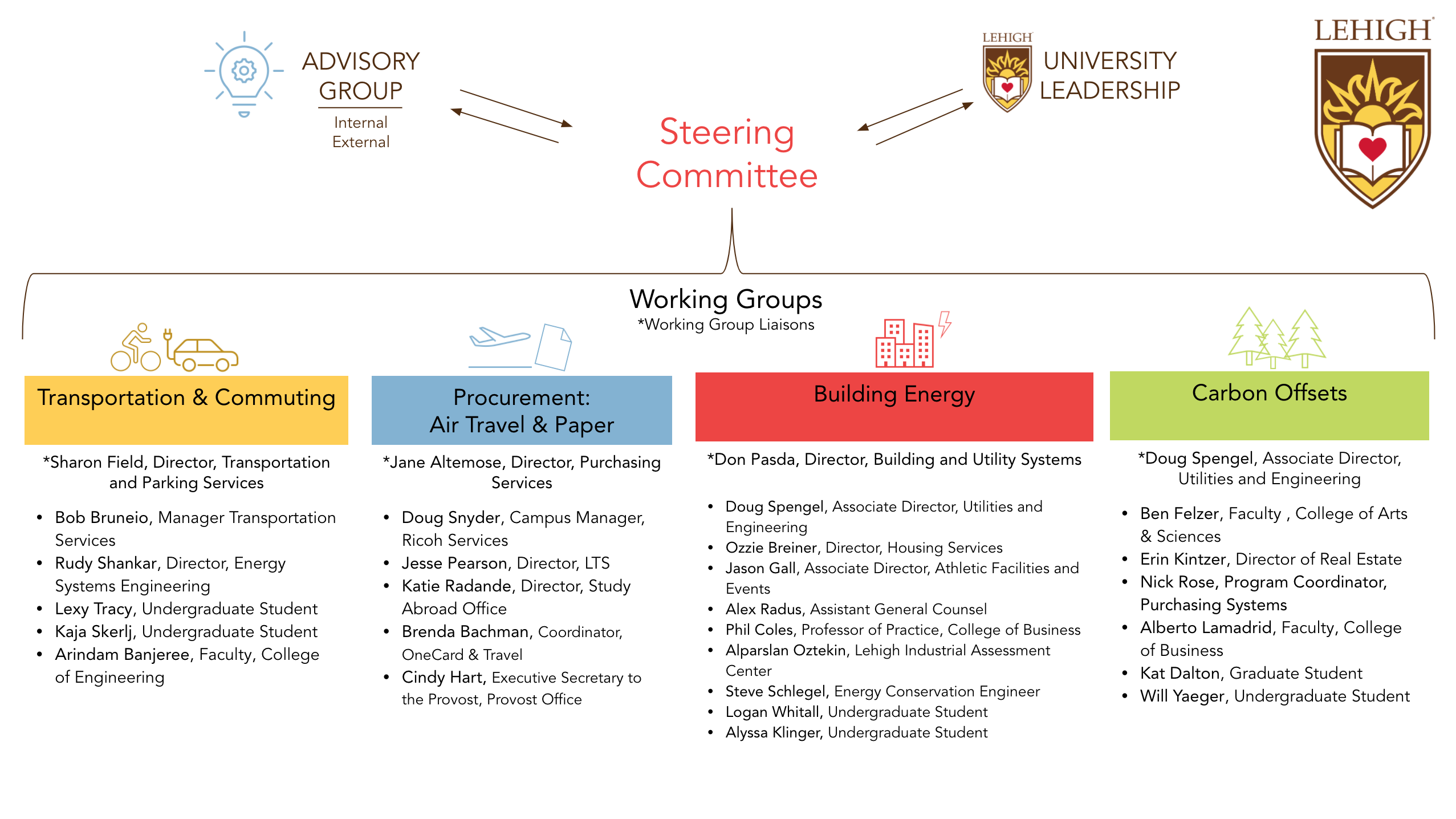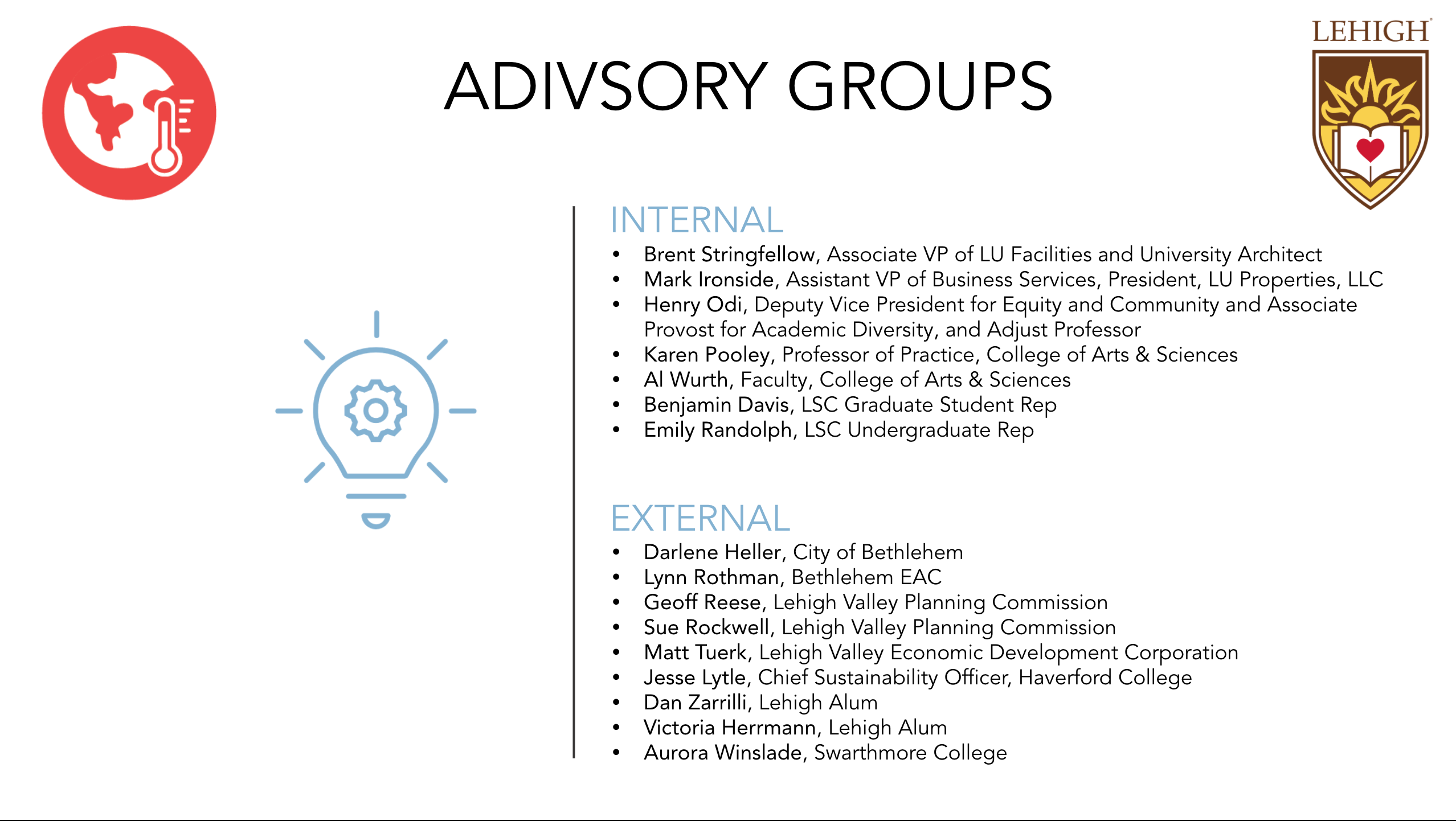 The newly developed, Lehigh Climate Lab, a partnership with the Office of Sustainability, LU Facilities, and faculty, will meet regularly to identify opportunities to bring Lehigh's Climate Action Strategy into coursework, projects, and research. We invite you to participate in the Lehigh Climate Lab. Learn about the initiative and how you can get involved.
Climate Action Strategy Course Toolkit
Do you want to integrate climate action into your courses? Check out our Climate Action Strategy CourseToolkit! The purpose of this toolkit is to assist faculty across Lehigh's five colleges with integrating Lehigh's commitment to sustainability and climate action (including key concepts like climate change, climate action, social justice, and resiliency) into your class(es). There are eight different paths this integration can take ranging from minimal to moderate effort. As sustainability becomes more central to the strategy of business and government, employers are increasingly emphasizing sustainability competencies, even for jobs that aren't explicitly focused on sustainability. This means that students equipped with these competencies are in demand by employers. We encourage you to choose the integration path that works best for you and your course!
Who do I contact with additional questions?
Thank you for your interest in staying up to date with Lehigh's Climate Action Strategy! There are many ways to get involved. Please share your thoughts and ask questions here.
We hosted 5 Ideation Sessions in Fall 2020 to gather input from the Lehigh Community. If you missed the sessions and would like to view a recording, click below.