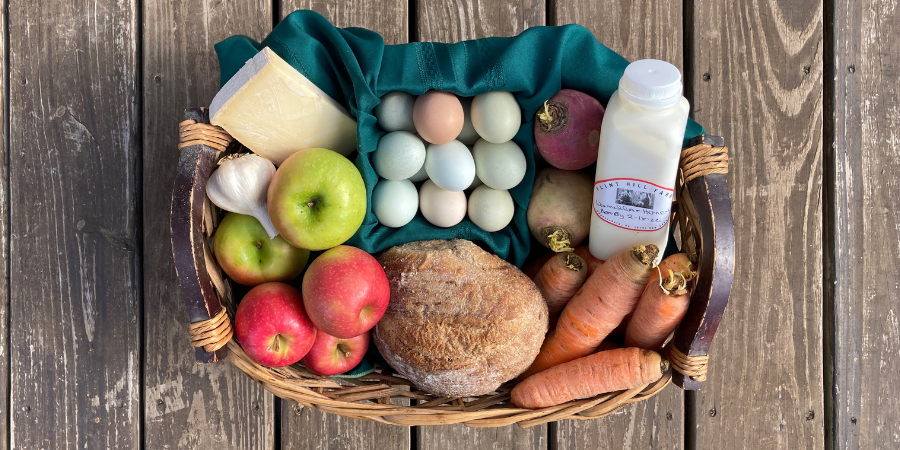 Eat healthy, eat fresh, and support your local growers and producers. Start here at Lehigh with the Willow Haven Market Box CSA!
The Willow Haven Market Box CSA Program conveniently delivers fresh, local, healthy food to Lehigh faculty and staff each week. Farmer Reuben DeMaster and his family grow the beautiful vegetables on their certified organic farm. Plus, through their strong relationships with other local farmers and artisans, the Willow Haven Market Box program also brings you pasture-raised eggs, raw milk, brick-oven bread, seasonal fruit, raw and artisan cheese, local organic flowers, pastured meats, and more. 
Reuben's wife, Tessa, lets you in behind the scenes with on-farm videos and stories plus recipes, menu suggestions, and strategies for using everything you receive from the farm delivered in a weekly email.
When you become a member of the Willow Haven Market Box subscription, you will…
Connect with real, local farmers you can trust

Bring meaning to your meals by knowing where your food comes from

Enjoy delicious meals that start with high-quality, local food

Sustain the livelihoods of local farmers like and the land we protect
Customize your box every week so it fits your family's tastes and budget. Enjoy easy and convenient online ordering with pickup on the Lehigh University campus.
Access your account to set your preferences: After sign up, you'll be prompted to enter your preferences in the "Harvie" account you created. "Harvie" is the platform Willow Haven Farm uses to do all the planning behind the scenes for every delivery. 
Rate your favorite foods: Rate every item or category of items from 1 - 5. Willow Haven Farm uses this information every time to create a box of farm foods you'll love. 
Customize your first delivery: You will receive an email from Willow Haven Farm & Harvie every Friday before your delivery showing you what's planned for your box that week. You will have 48 hours to make changes ("swaps") to the items in your box by easily following the links in the email to see what is in your "cart" and viewing all the items that are available to add. Deliveries Start on Thursday, June 2 for Lehigh University members.
Pick up your Willow Haven Market Box: An email reminder will inform you on the Tuesday before your delivery that it's on the way. Your weekly charge will be processed to your credit card at that time. Pick up your box at the Office of Sustainability, located at 516 Brodhead Avenue, on Thursdays from 3 pm - 6pm. Or the option you chose when you signed up.  Your email will your remind you where and when that is and who to contact if you have an issue. 
Enjoy your farm food and create amazing meals: Use the tutorials and recipes linked in your Willow Haven/Harvie emails for guidance on how to store vegetables and use the freshest ingredients to make great food. 
Joining the Willow Haven Market Box CSA is easy.
1: Sign up and choose your Share Size/Frequency & your Add-On shares (more info below). 
2: Choose how to get your box: delivery or pickup. 
3: Submit your down payment and fill out your preferences so you get exactly the items you want in each box.
Step 1: Choose your Size & Add-Ons
We have 3 box sizes to suit your needs:
Mini, $35/wk of your grocery budget

Small, $65/wk of your grocery budget

Medium, $95/wk, of your grocery budget

Unsure which size to pick? Here's a guide to help: What Size Box Should I choose?
Choose Your Share Frequency: Weekly or every other Week
Every Week: 20 weeks, June - October

Every Other Week: 10 weeks, June – October

Includes unlimited skips and schedule changes you control from your account.
Choose your Add-Ons: Willow Haven offers two very special add-on subscriptions. Because they have limited availability be sure to add them In order to guarantee these in your box. : 
1) organic flower bouquets grown and arranged by Tessa and Reuben's daughter, Annika.
2) artisan cheeses from cheesemakers Steve and Vince of Haven Farmstead Table. These unique, handmade cheeses aren't available anywhere else!
Step 2: Choose How to Receive Your Box
Workplace Delivery: Lehigh University employees choose Lehigh University as their pick up location. (The $4/delivery charge will be reduced if more than 50 Lehigh associates choose this option.)
For your convenience Home Delivery is available, if you fall within our Home Delivery region (map here), we will deliver vegetables straight to your doorstep. This convenient service has an $8/delivery. 
No matter which option you choose, please enter "Lehigh" in the employee ID field.
Step 3: Understand Your Payment
Market Boxes range from $35 - 95/ delivery. Think of it as part of your grocery budget.
Home Delivery is a premium convenience.
Picking up at the Farm is our best value and a great experience. 
Delivery fees are not charged until the week we deliver each Market box.
In-season Payment Plan: A down payment for one market box will be charged upon checkout to indicate your commitment to Willow Haven Farm. This "unlocks" the pay-as-you go option going forward. You will pay the full weekly amount of your box beginning with your third delivery. You are only charged on the weeks you receive a box.
What is CSA and what are the benefits?
Community Supported Agriculture (CSA) offers community members the opportunity to support local farmers by purchasing shares.  This enables consumers to know how and where their food is being produced while providing farmers with capital for production. 
Why is Lehigh offering this program?
Health and quality of life greatly impact employee satisfaction, student engagement, and the productivity of the community. As such, a key focus area of Lehigh's Sustainability Strategic Plan 2030 is Health & Wellness. Working with Willow Haven Farm directly supports the following 2030 Plan goal: "Partner with a local farm or distributor and pilot a Community-Supported Agriculture (CSA) program by 2022."
This program aims to conveniently deliver fresh, local, healthy food to Lehigh faculty and staff.