Lehigh partners with Giant Food Stores and the Trex Company to recycle plastic film generated on Lehigh's campuses in an innovative way. The plastic film is collected in white/yellow bins in designated locations (see below) and is recycled by Trex and turned into alternative lumber, decking, and furniture.  
Where Do I Recycle Plastic Film?
STEPS Concourse (across from the waterfall courtyard)

Rauch Business Center (2nd floor in the cafe/lounge area)

Linderman Library (on the left as you enter the library)

Lamberton Hall (in the Great Room)

University Center (next to an entrance to Lower Cort on the first floor)

EWFM Library (near the main entrance)

3rd and New St. (in the communal kitchen)

Iacocca Hall

Coxe Hall
What is Considered Plastic Film?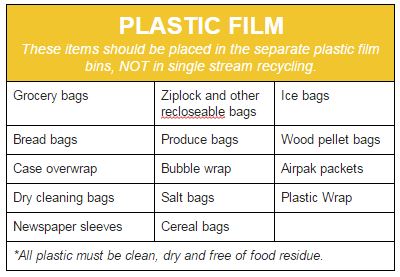 Plastic film must be collected separately from Lehigh's single stream recycling system.  If plastic film is placed in the blue single stream recycling bins, it will cause expensive and inconvenient machine clogging at the recycling facility.  Plastic film must be clean, dry, and free of food residue to be recycled. If your plastic film does not meet this criteria, please place it in the trash bin.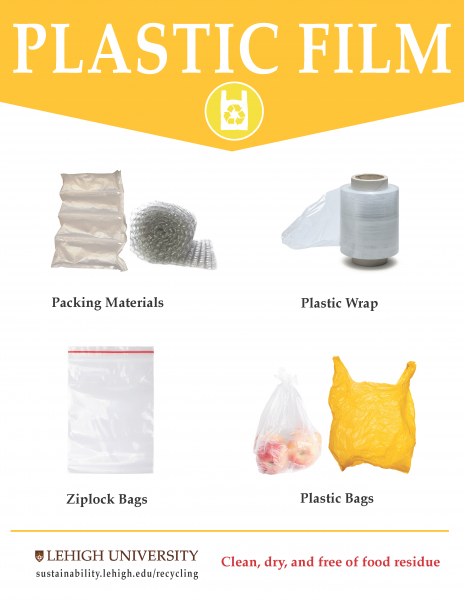 Download a copy of our plastic film poster.
Questions?
Contact Dan O'Brien, Associate Director, Custodial, Grounds and Athletics (djo318@lehigh.edu).