The Sustainability Leadership & Innovation Institute enables current high school students to develop their skills as the environmental leaders of tomorrow during this week long program hosted by Lehigh's Office of Sustainability. Students will have the opportunity for place-based experiences focused on sustainability, creative inquiry and environmental innovation, all while getting a taste of the Lehigh University experience! Using an entrepreneurial mindset and the United Nation's Sustainable Development Goals framework, students will create solutions to local sustainability challenges within a global context. Interwoven with off-campus trips, discussions with Lehigh students and professors, and a self-designed capstone project, students will gain valuable academic and leadership skills through practical application. Interested in receiving a notification when the 2020 application opens?
Program Principles
The Sustainability Leadership & Innovation Institute offers a schedule where new ideas, real life experience, leadership development, and collaborative work coincide for an intentional and meaningful week. This program was designed to align with the following principles: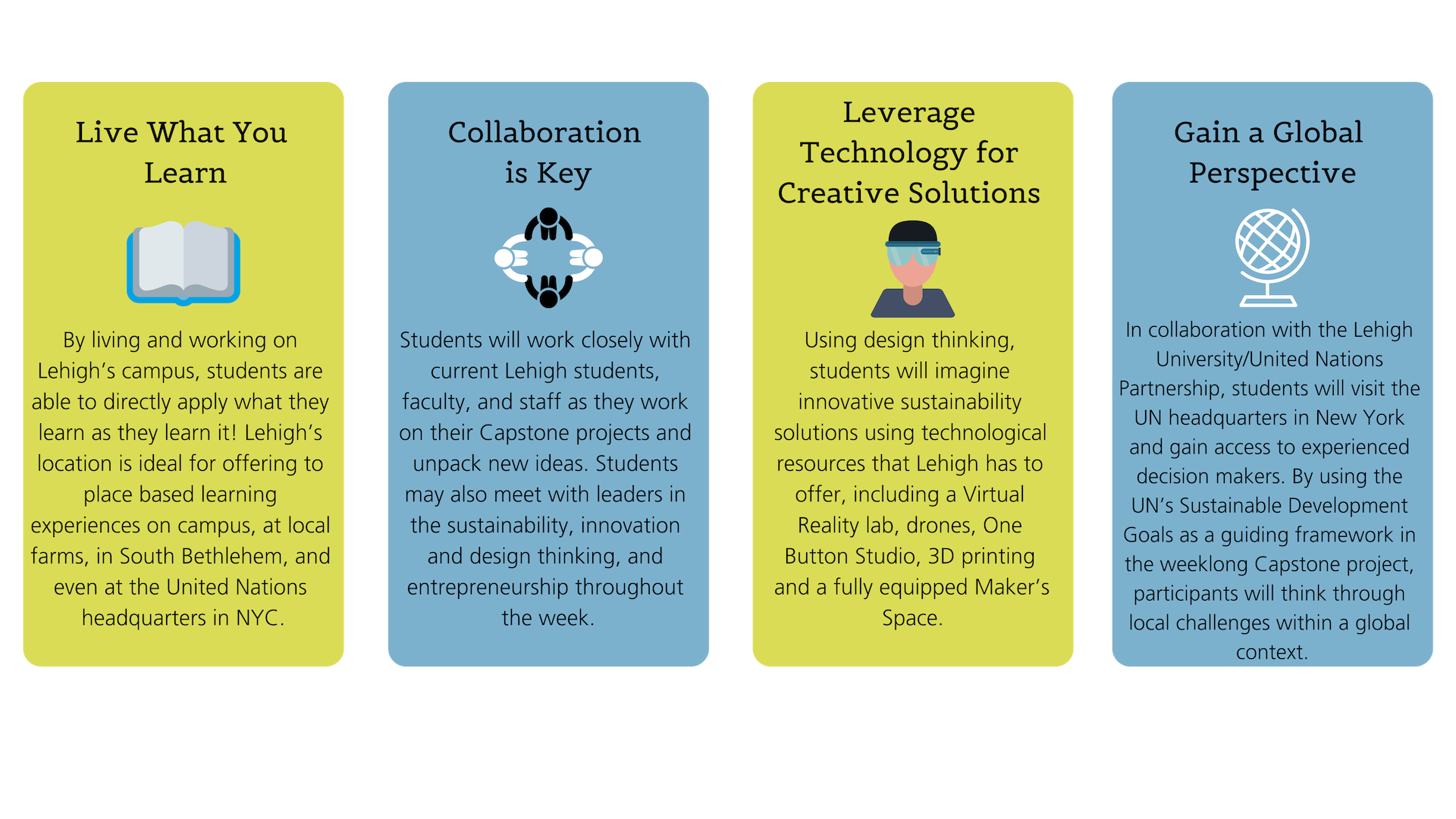 During this week long, residential program, students will: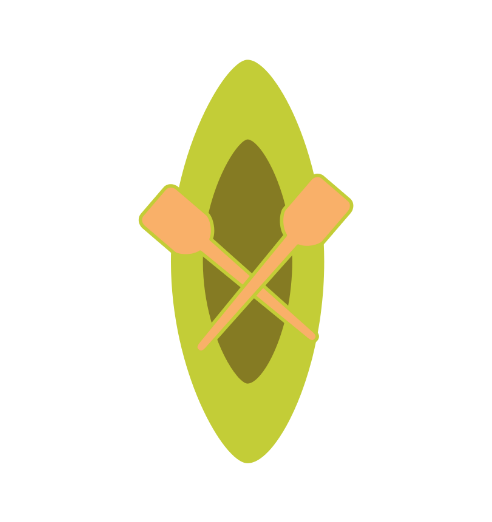 Participate in Dynamic Activities
Live on campus and eat in the dining hall

Bike and canoe in the Lehigh Valley

Go to a concert at SteelStacks

Visit the Bethlehem Farmers' Market, tour a local farm, and take a zero waste cooking class

Go on a private tour and meet with officials at United Nations headquarters in New York City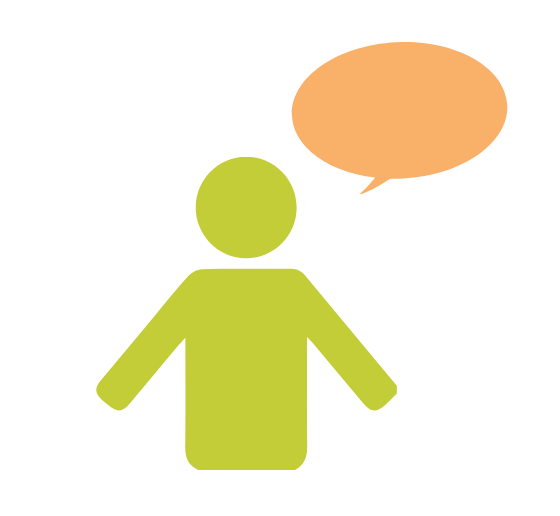 Engage in Impactful Learning Opportunities
Experience a variety of academic, co-curricular, and community programming that Lehigh has to offer

Engage in discussions about sustainability and aspirations to build a more just and verdant world with sustainability professional, industry experts and Lehigh students, faculty, and staff

Visit Lehigh's Baker Institute and Mountain Initiative to learn about entrepreneurship, innovation, and design thinking

Talk to Admissions officers about the college application process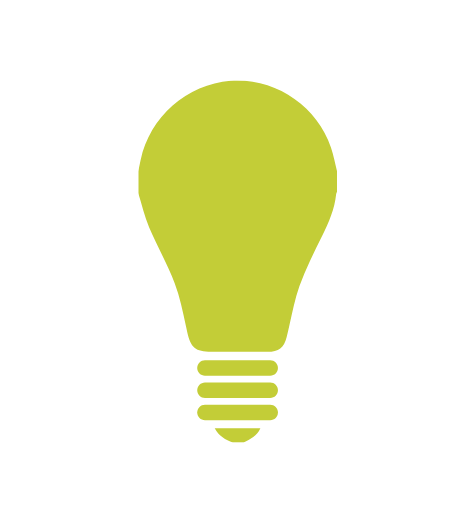 Capstone Development
Work in small teams to develop a project over the course of the week that cements their understanding of sustainability using design thinking with support from Lehigh students, faculty and staff mentors

Explore technological resources like a virtual reality lab, drones and the One Button studio to enhance the capstone experience

Gain new leadership and professional skills through daily mini workshops

Aligning with the United Nation's Sustainable Development Goals, projects may focus on the following topics:


Lehigh University will serve as "home base" during the program. Students will live in campus residential halls with other program participants. Linens and towels will be provided (see the FAQs tab for more information).
​Students will live like Lehigh undergraduates for the week, eating in the dining hall and trying some of the restaurants in South Bethlehem. They will even help to prepare a zero waste dinner one night with the help of one of the Rathbone Dining Hall chefs!
Pre and Post Program Support
Program staff are available to answer questions and support students and families before, during and after the program.
Students will participate in a variety of fun activities including biking and canoeing, visiting the Bethlehem Farmers' Market, touring a local farm, taking a zero waste cooking class, and touring and meeting with officials at the United Nations.
Travel during the week will be provided for all students. For information about travel to and from the program, see the FAQ section
Are you ready to apply?
Applicants must be a current freshman, sophomore or junior in secondary school or home-schooled. A brief online application is required before enrolling in the program. Application to this program is not first come first serve.  Applicants will be chosen based on the content of their applications. As part of the online application, students are asked to upload their resume and transcript. Limited scholarships are available based on need.  Underrepresented groups and first generation students are encouraged to apply.
The application for summer 2019 has closed. If you are interested in applying for summer 2020 click below where it says "Apply Now!". Fill out the survey and we will contact you when the application for summer 2020 has been posted. Who are the staff members?
Professional Lehigh University staff, faculty and student leaders are on hand at every point throughout the program, even in the evenings and overnight. For a full list of staff, please check this link.
How many student participants will there be?
We aim to accept no more than 20 passionate, creative and intellectually curious high school students. We believe this keeps the experience engaging and intimate.
Temperatures in the area generally range from 59 F to 80 F with some humidity and precipitation. We encourage students to dress comfortably knowing they will be active. Business casual attire will be required for the trip to the United Nations. A full packing list will be sent to registrants.
How will I get to Lehigh?
Any air, train, or car travel to and from Lehigh University at the beginning or end of the program will be the responsibility of the program participant. Upon request, program coordinators will assist with transport from Lehigh Valley International Airport (LVI) (7 miles from Lehigh University), Newark Liberty International Airport (EWR) (74 miles), or Philadelphia International Airport (PHL) (78 miles). Participants should plan to arrive on campus before noon on June 23 and depart by 2pm on June 29.
Will this program help me get admitted to Lehigh?
Admission to Lehigh is based on a variety of factors, including a student's interest in pursuing knowledge, consideration of the world around him/her/them, and their fit with Lehigh. A student who participates in this program indicates that they are eager to learn, explore, and solve world problems. Further, spending time on Lehigh's campus allows a student to gain a better sense of their fit with our academic approach, physical setting, and community. An applicant who participated in this program and experienced life at Lehigh, would be able to better elaborate on why Lehigh is a good fit during the admissions process.
Will the program accommodate my dietary restrictions?
Yes, absolutely. Our dining services can accommodate any dietary requests made ahead of time, including vegetarian, vegan, and gluten-free meals. As we are a leader amongst higher education institutions in food sustainability, we aim to provide as much local, organic, fair trade and eco-friendly food as possible.
Will the program accommodate my health/mobility needs?
Yes, absolutely. Lehigh meets all ADA requirements. The program coordinators will organize activities that meet the needs of each program participant.
Can I participate in more than one summer programs at Lehigh?
As long as the summer programs do not run concurrently, we encourage you to sign up for other summer programs at Lehigh. There are many that start just after ours ends, including Iacocca Global Entrepreneurship, Summer Engineering Institute and more. Learn about them here.