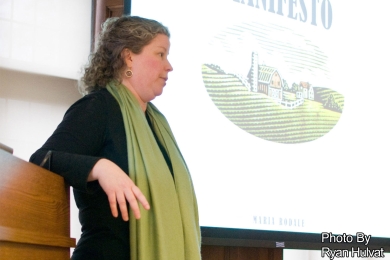 The South Side Initiative (SSI) brings together Lehigh University faculty, students, and staff with the people of Bethlehem in order to share knowledge, foster democracy, and improve the quality of life in our city.
SSI rests on the proposition that the teaching and research mission of the university – and the quality of life in Bethlehem – will be enhanced by this collaboration. SSI develops courses focused on the past, present, and possible futures of the city; supports working groups to conduct ongoing research; and sponsor events including public forums, visiting lectures, film series, public art and public history projects. In addition, SSI aids to pressing problems facing our community – from air pollution and asthma to poverty, hunger and homelessness. Courses enable students to explore the rich histories of our city and the vibrant cultures of our neighborhoods.
South Side Community Gardens
The South Side Community Gardens and Urban Agriculture Working Group supports several community gardens on the South Side including: Martin Luther King, Jr. park (Carlton Avenue), at the Esperanza Garden (Greenway, b/w Taylor and Webster). These community gardens enable residents of South Bethlehem and members of the Lehigh community to gain access to convenient, inexpensive plots of land for gardening.  By fostering community gardens, the South Side Community Gardens and Urban Agriculture Working Group aims to increase access to high quality, affordable fruit and vegetables on the South Side.
For more information about how to get involved, please contact the SSI Community Gardens Coordinator at inssicg@lehigh.edu.