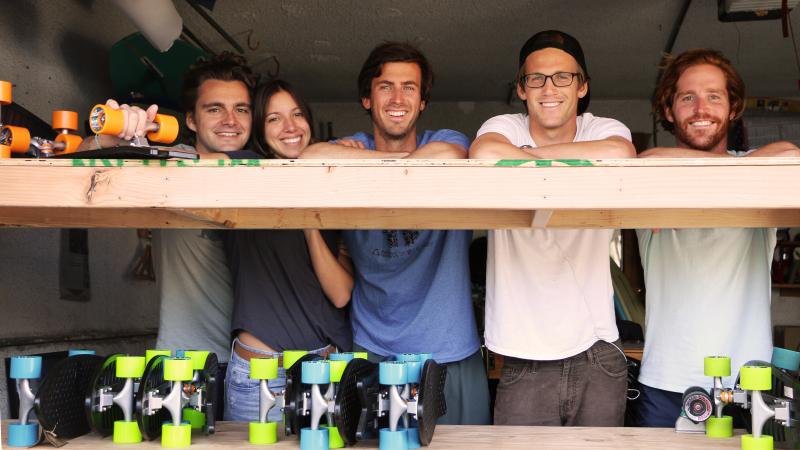 Is it possible to weave sustainable practices into a lucrative business model? We interviewed David Stover '07, cofounder along with fellow alum, Kevin Ahearn '07, of Bureo Inc. Their company has a simple, but powerful solution to a major environmental concern: they cull discarded fishing nets from the coast of Chile and recycle them into skateboards. We wanted to find out how they did it--and how we can too. Here's what he told us:
How did Bureo Inc. come to be?
"I've always been passionate for the ocean and surfing. My time at Lehigh was actually the only time living away from the ocean. I grew up in a small town--there were 50 kids in my high school. So going to Lehigh was a big deal for me. In my first year, Kevin saw me wearing a surf t-shirt and said hi. We've been friends ever since. We took a bunch of classes together, graduated together, and then went in separate directions for a while."
Their story begins like a travel adventure in the nonfiction section. From Australia to Chile to the South Pacific, all the way over to America's west coast, and then right here at Lehigh, Bureo Inc. truly has global roots. David and Kevin--and Ben, their third partner--share more than a love of surfing and a love of skating. They are also passionate about sustainability and have taken the sustainable business model to a new level.
It's a simple concept: prevent a  pollutant from entering the ocean and turn it into a product that sells. Plastic fishing nets are salvaged from the Chilean coast, through a shared value model operating in 25 communities. The nets are broken down into tiny pellets, and then converted to the base material used to create supercool, retro skateboards. But the journey to find that sustainable business idea was by no means straightforward. It took a great deal of creative energy and analytical focus by these optimistic, innovative Lehigh (and Northeastern) alumni.
What's the secret to their success?
"Students graduating right now are lucky to be exposed to sustainability issues in their education. That was still pretty new when Kevin and I graduated in '07. But Ben, our third partner who went to Northeastern, studied sustainability and really gave us a foundation to start from. We've heard of these nonprofits that have really great ideas, but can't always finance them into the long term. Having a revenue model that can sustain the operations is important. We just saw a lot of value in finding a solution to the problem and letting other people support it through the power of business."
What's next for Bureo?
"We just received an Award for Corporate Excellence (ACE)  from the former US Secretary of State (John Kerry) and ambassador to Chile to recognize us as a lead business around the world for sustainability in oceans management. Our next big goal is to expand the recycling program. We've proven the concept in 25 communities, but we want to keep growing."
What's your advice for the next class of Lehigh students?
"My advice to students - no matter what you're interested in - is to find something you're passionate about. You can find a way to do something good for the world no matter what your interests are, and your impacts will be magnified if you are passionate about what you are doing."
There are many models of success for turning sustainability into a viable career. David and Kevin have figured out one grassroots-corporate-sustainability hybrid that's worked remarkably well.  Bureo is just one example among many that shows it is possible to achieve success and make a difference, all while staying passionate.