Lehigh celebrates Earth Month by hosting a month of educational and engaging events. Earth Month is an opportunity to celebrate the beauty and bounty of our planet, while also embracing our responsibility to curb our environmental impact to protect the earth for future generations.
Please join the Lehigh community in celebrating Earth Month 2023!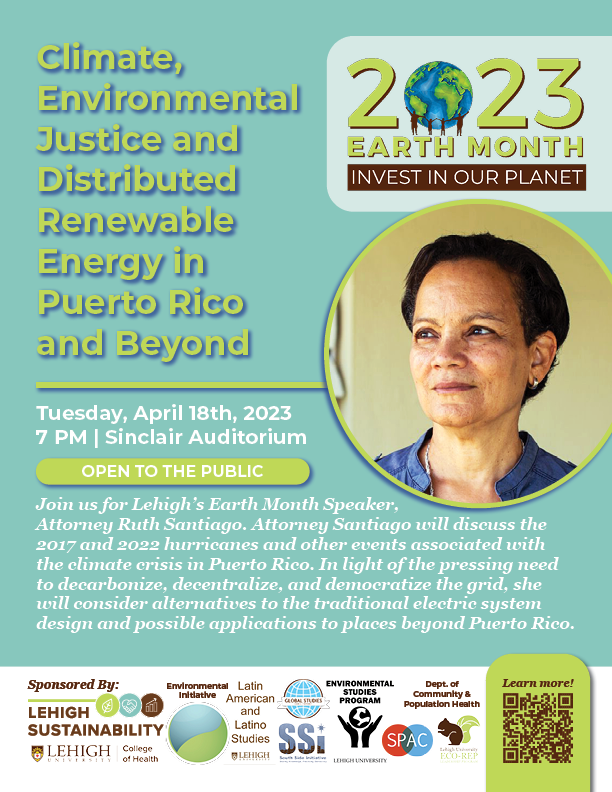 This year's Earth Month Speaker is Attorney Ruth Santiago. Attorney Santiago is a Lehigh alumnus. On Tuesday, April 18th at 7 PM in the Sinclair Auditorium, Attorney Santiago will give a talk entitled "Climate, Environmental Justice and Distributed Renewable Energy in Puerto Rico and Beyond." In it she will discuss the 2017 and 2022 hurricanes and other events associated with the climate crisis in Puerto Rico. In light of the pressing need to decarbonize, decentralize, and democratize the grid, she will consider alternatives to the traditional electric system design and possible applications to places beyond Puerto Rico.
Coming back for the first time since 2019 is the Earth Day Fair! Lehigh Sustainability's vibrant, outdoor Earth Day Fair gives students, staff, and faculty the opportunity to learn from and interact with a myriad of booths showcasing sustainability clubs, initiatives, programs, and departments from around campus!
"I am thrilled to bring back the Earth Day Fair! Over 20 sustainability-related clubs, programs and initiatives will be showcased and it is heartwarming that our community will gather once again in celebration of Earth Day and Lehigh's commitment to becoming a model sustainable campus. I welcome you to join us for our Earth Month festivities and participate in this global celebration," said Audrey McSain, Sustainability Director.
Join us in celebrating Earth Day on Thursday, April 20th from 11 AM - 2 PM on the STEPS Lawn!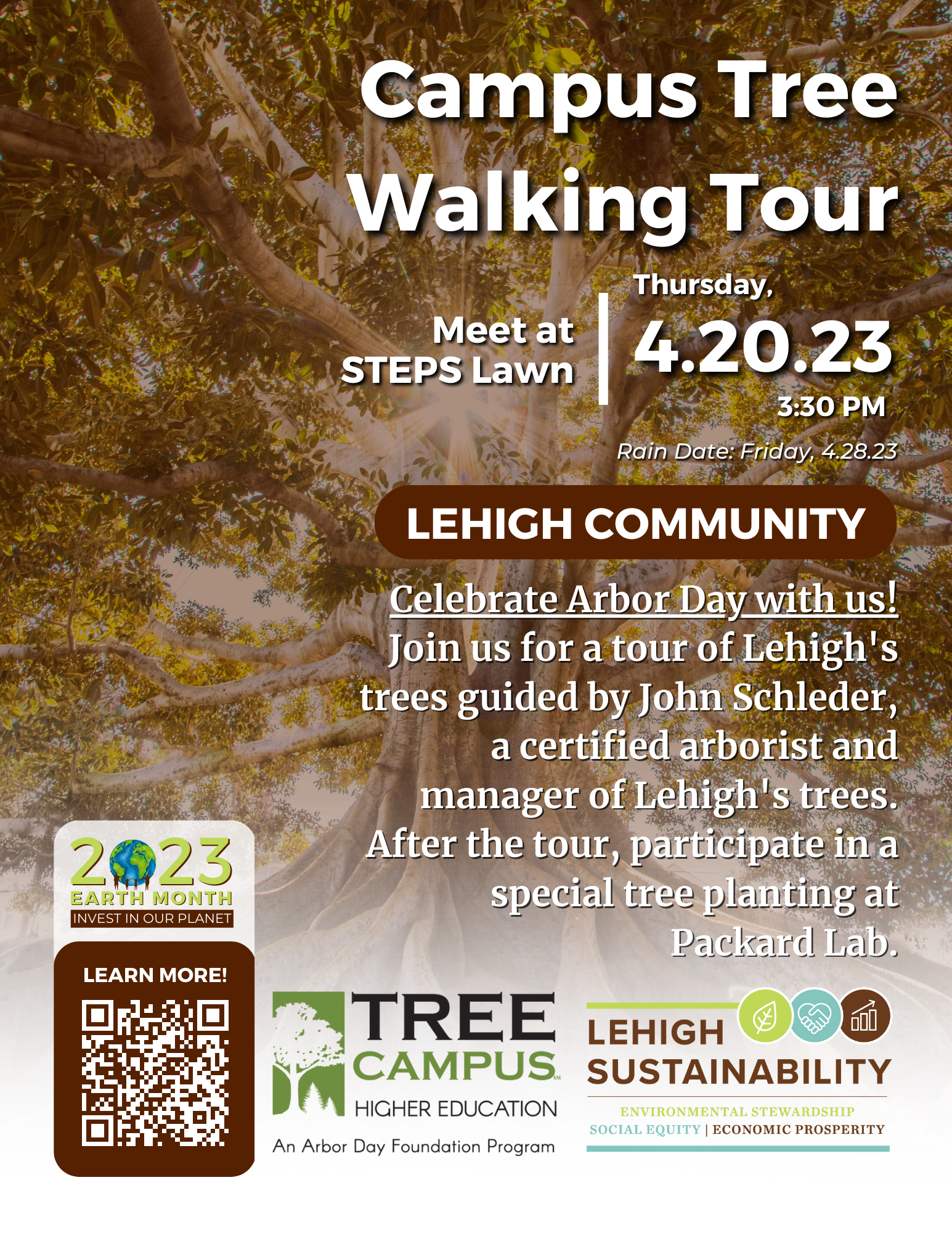 Celebrate Arbor Day with us!
Join us for a tour of Lehigh's trees guided by John Schleder, a certified arborist and manager of Lehigh's trees. After the tour, participate in a special tree planting at Packard Lab.
Meet at the STEPS Lawn at 3:30 PM to join the tour!
All 2023 Earth Month Events
All 2023 Earth Month Events
*NOTE: ESE Energy Earth Day Celebration has been rescheduled for April 13th, 2023.