What is RecycleMania?
RecycleMania is a national waste diversion and recycling competition against colleges and universities to promote waste reduction activities in campus communities. Over an 8-week period each spring, colleges and universities report the amount of recycling and trash collected each week and are in turn ranked in various categories based on which schools recycle the most on a per capita basis, as well as which schools have the best recycling rate as a percentage of total waste and which schools generate the least amount of combined trash and recycling.    Lehigh has participated in the RecycleMania tournament for the past six years.
Check Out the Live Recyclemania Results
2018 Calendar of Events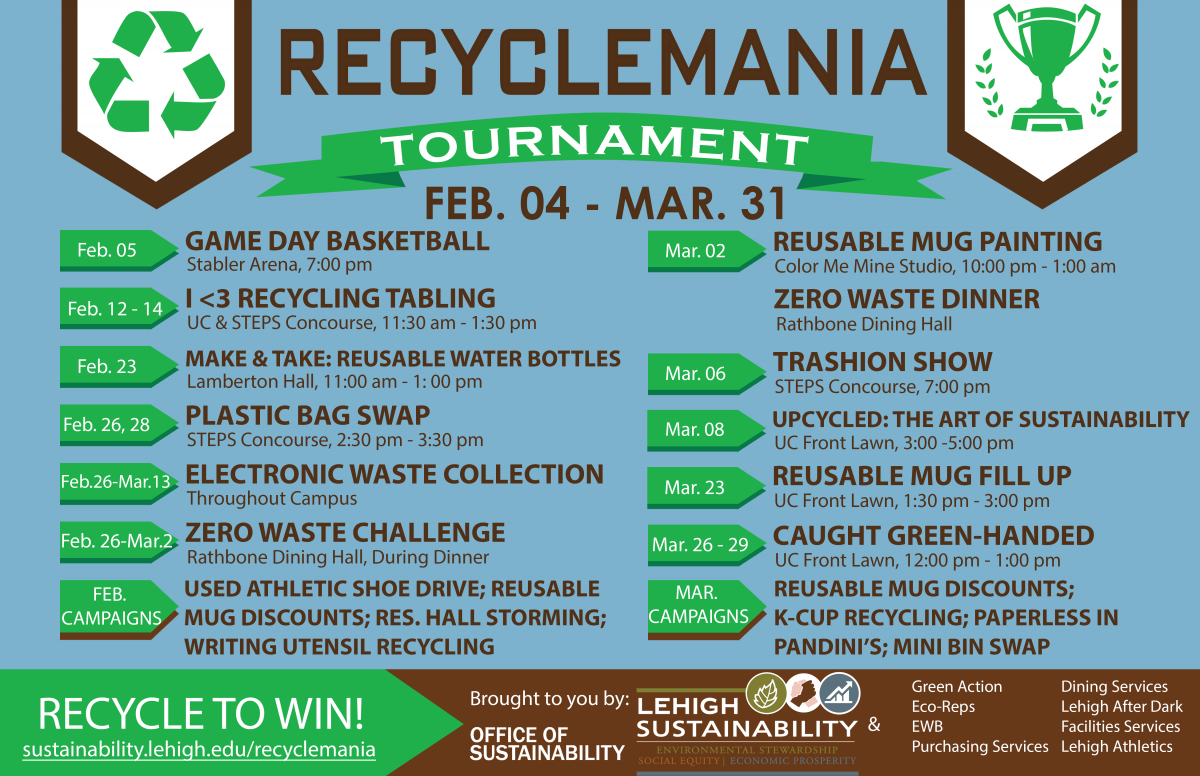 What are the overall goals of RecycleMania?
- Motivate students and staff to increase recycling efforts and reduce waste generation.
- Generate attention and support for campus recycling programs.
- Encourage colleges to measure and benchmark recycling activity in their effort to improve their programs over time.
- Have a fair and friendly competition.
What is this year's goal?
- Raise awareness among Lehigh faculty, staff, and students about what is and isn't recyclable at Lehigh and how to reduce waste generation.
- Increase the average waste diversion rate by AT LEAST 5 percent compared to the pre-competition waste diversion rate.
How can YOU get involved?
- Learn what is and isn't recyclable at Lehigh!
- Recycle and reduce your waste generation as much as possible during this competition...and everyday!   
- Post a recycling flier and trash flier above your bins.  
- Use a reusable mug to avoid using single use coffee cups - Lehigh Dining Services is offering $0.99 brewed drip coffee (any size, hot or cold) when you use a reusable mug during Recyclemania.
- Swap out your desk-side 7 gallon trash bin for a mini bin. To kickstart a good recycling habit.  Register here.
- Start recycling K-Cups in your office.  Simply pick up a K-Cup recycling collection box at Purchasing Services (516 Brodhead) or at Lab Stores (6 East Packer Avenue Room 132).  The boxes are pre-paid, and there is NO cost to Lehigh.  Once box is filled, simply contact UPS to have the box picked up.
- Participate in the Used Athletic Shoe Drive from Feb 15 - Mar 1. Collection boxes will be set up at the following locations: Iacocca Hall, 2nd Floor; STEPS Concourse; Taylor Gym near Fitness Center; Stabler Arena near main entrance; Williams Hall Torcivia Greenhouse.
2017 Results

Past Results