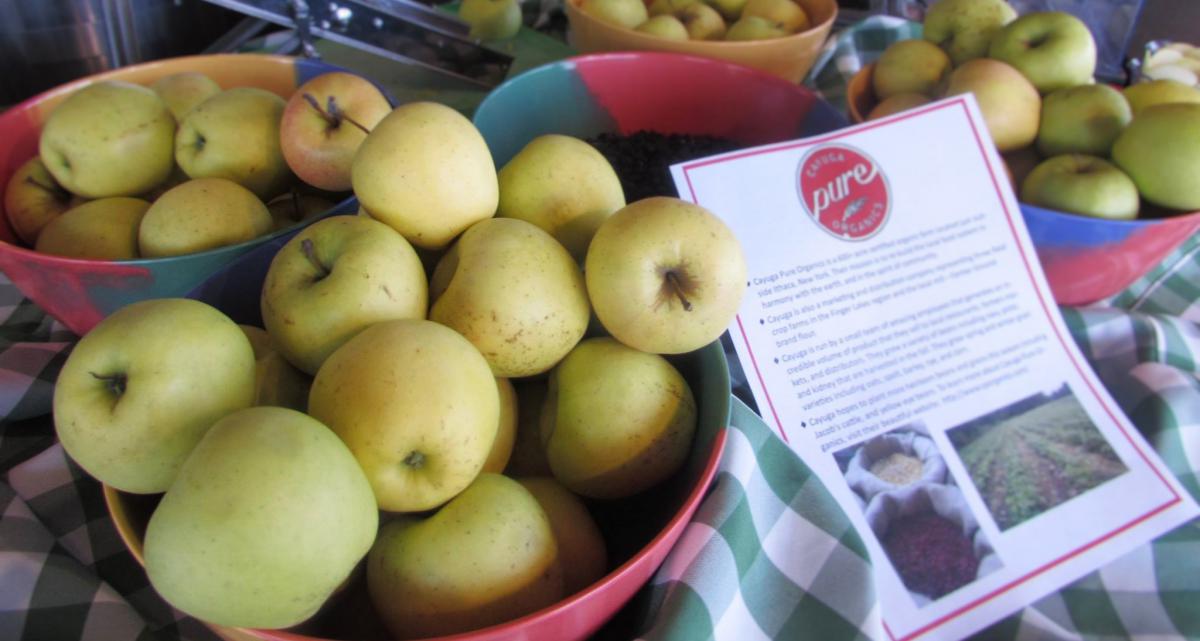 President Simon recently signed the "Real" Food Campus Commitment, which pledges that Lehigh will purchase at least 20 percent of its food annually from local/community-based, fair, ecologically sound, or humane sources by 2020.  This commitment will help Lehigh to support a healthy food system that not only encourages environmental stewardship, but also respects human rights and facilitates campus involvement. When asked why this step was made and why it is important for Lehigh, President Simon said, "The Real Food Campus Commitment affirms our dedication to reaching the goals set forth in Lehigh's Campus Sustainability Plan 2020. Through this commitment, Lehigh is showing that we are serious about supporting a healthy food system."  Making this official commitment fits into our Campus Sustainability Plan 2020 goal of achieving 20 percent of food aligning with one or more of four categories (local, humane, fair trade, and organic).  
Although President Simon just recently signed the "Real" Food Campus Commitment, the Office of Sustainability has been working with Lehigh Dining Services and Sodexo on The Real Food Challenge (RFC) since 2013-2014.  "We have an amazing partnership that will only continue to grow and Sodexo is honored to be a part of it." said Lauren Sleeger, Director of Rathbone.  "The Real Food Challenge represents the relentless dedication of the Office of Sustainability and Lehigh Dining Services to provide great tasting food while being environmentally and ethically responsible," said Lauren.  The RFC is a national campaign to encourage campuses to increase the ratio of food purchased from "conventional" to "real" food.  Lehigh is one of just three colleges and universities in Pennsylvania—and 83 nationally—to sign the Real Food pledge.  "Real" food can be defined by four categories:
- Local/Community-based: Food sourced from a 150-250 mile radius of campus.

- Fair: Food that can be certified as Fair Trade, which confirms that employees of the company have living wages, right to benefits, equal pay etc.

- Ecologically Sound: Food that is grown in a way that is safe for the consumer, producer, and planet. This includes certifications such as USDA Organic, Rainforest Alliance, etc.

- Humane: Food sourced from animals that have been treated in a humane fashion. This includes certifications such as Animal Welfare Approved by Animal Welfare Institute.
The Real Food Challenge process involves a team of Lehigh students analyzing invoices from campus dining areas to determine the percentage of the food budget that is being spent on "real" food.  They examine two months (October and February) of invoices for each yearly assessment.  Two members from this student team shared why signing this commitment means a lot to them as Lehigh students.  "As a student who grew up in a farming community, I am excited to see Lehigh make the commitment to supply food from real food vendors and ultimately spread valuable knowledge in a food illiterate world," said Emily Mailhot '19.  She went on to say that, "Many Lehigh students do not know or think about where their meal originated; it is important for individuals to know where their food is coming from."  As Ava Scally '20 states,  "Having more real food means than I can be more confident that the food I'm eating is cruelty free and has a smaller carbon footprint.  It's one less thing to worry about and take pride in here at Lehigh."
Since the first assessment in 2013-2014, the Real Food Challenge team has made tremendous progress in improving the "real" food percentage on campus (see timeline).  The results from each assessment allow Lehigh Dining Services to identify areas for improvement.  One example of this is the new partnership that Lehigh Dining Services has with Common Market of Philadelphia to increase the amount of food that is purchased from local farms.  The Office of Sustainability is working closely with Lehigh Dining Services to determine how they will meet the "Real" Food Campus Commitment goal of 20 percent by 2020.  Lehigh Dining Services is actively working with their corporate supply management chain to be proactive in creating needed changes.  The team is also currently in the process of analyzing the greatest areas of opportunity within each of the four categories.  This will allow them to target specific areas where they know there is a large opportunity for improvement.  Once these specific areas are determined, they will become part of an action plan.
What do YOU think about Lehigh signing this commitment?  Check out the Real Food Campus Commitment and let us know what you think!