A Vision to Make Lehigh the Best Example of Diversity & Inclusion in Higher Ed
At Lehigh, we to belong to a community that is committed to creating not only a sustainable environment, but also one that is diverse, healthy, and inclusive. Afterall, Lehigh defines sustainability as the integration of social equity, environmental stewardship, and economic prosperity into campus-wide administrative, academic, and operational processes. Read More...
National Recyclemania Competition 2018
The 2018 national Recyclemania competition is in full swing!  The competition, which began on February 4 and will last until March 31, is a friendly competition between colleges and universities to promote recycling and waste reduction on college campuses nationwide.  Lehigh has participated in this competition for the last six years.  This year, the goal is to increase Lehigh's waste diversion rate by at least 5 percent, compared to the pre competition waste diversion rate.  Read More...
Campus Sustainability Plan 2020: Forest Management, Outreach Materials, and Sustainability Across the Curriculum
Since Lehigh's Campus Sustainability Plan 2020 was formally released to the campus community in January 2017, Lehigh has made great progress toward several of its goals.  In this article, we highlight key progress toward our goals in the areas of forest management, outreach materials, and sustainability across the curriculum. Read More...

Sustainable Office Program Expansion
Created in the Spring of 2015, Lehigh's Sustainable Office Program is a voluntary, self-guided program designed for faculty and staff to take the lead on promoting sustainable practices in the workplace.  By taking action in a variety of topic areas, faculty and staff...Read More...
Lehigh Sustainability Council Update
Please be on the lookout for a joint email from the Lehigh Sustainability Council and the Office of Sustainability in April that will include a link to a survey that will help our office better understand student, faculty, and staff behavior and attitudes toward sustainability. The campus-wide survey will be available online for 3 weeks. Our office plans on using the results of this survey to better plan sustainability programs, outreach, and operations for the campus as a whole.  Read More...
Lehigh Receives STARS Silver
Lehigh submitted its third report to The Sustainability Tracking, Assessment & Rating System™ (STARS) in November 2017, and received a silver rating for the second consecutive year from the Association for the Advancement of Sustainability in Higher Education. Lehigh reports to STARS to determine its sustainability performance compared to other colleges and universities worldwide.  Lehigh was one of three colleges out of 34 in Pennsylvania to get a silver rating.  Only one college in Pennsylvania received a gold rating.  
LVAIC Sustainability Conference 2018 Recap
The biennial Lehigh Valley Association of Independent Colleges (LVAIC) Sustainability Conference 2018 was held at Lafayette College on February 17th. This conference was an opportunity for faculty, staff, students, and local community members to explore sustainability projects, cultivate dialogue, and encourage concrete action.  Twelve Lehigh students, faculty, and staff presented at the conference through oral presentations, posters, and workshops. 
Earth Week 2018 Preview
Earth Week 2018 is fast approaching, and Lehigh has a full slate of educational and engaging events planned on campus.  This year, Earth Week is from April 16 to 22 and Lehigh's theme will be, "This is OUR planet: How will you help sustain it?" Earth Week is a time to celebrate the beauty and bounty of our planet.  We must embrace our responsibility to curb our environmental impact and protect the planet for future generations.  Make this Earth Week one to remember both with fond memories and with meaningful impact. Check out the Earth Week website - coming soon - for the full list of events!
Update: Lehigh Alumni Sustainability Alliance
We are delighted to share an exciting development regarding the Lehigh Alumni Sustainability Alliance (LASA).  LASA is a group of alumni, faculty, and staff committed to sustainability - the economic, environmental, and social aspects - in various professions and industries.  Read More...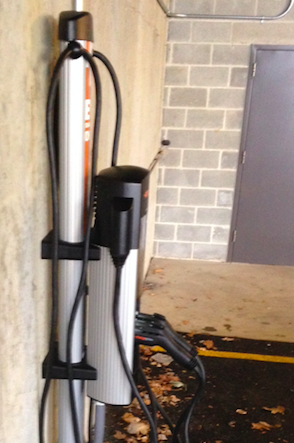 Electric Vehicle Charging Station Coming This Spring
An electric vehicle charging station with two ports is coming to the Alumni Memorial parking garage (level one) this spring.  Be sure to check it out!