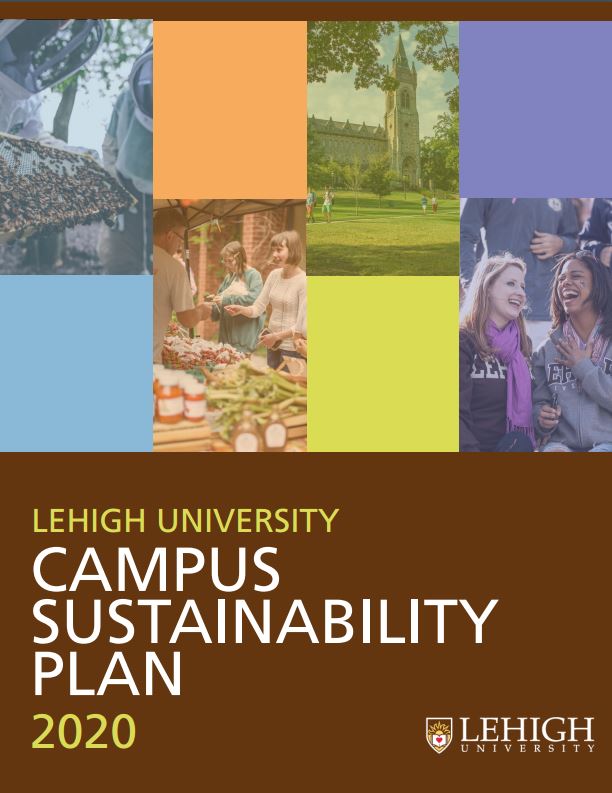 Lehigh University has made great strides over the years to weave sustainability into our academic and operational processes.  In April 2012, Lehigh University adopted its first Campus Sustainability Plan.  In May 2016, Lehigh adopted its Campus Sustainability Plan 2020 to advance the integration of environmental stewardship, social equity, and economic responsibility into our intellectual footprint.  
Lehigh's Sustainability Plan is an interdisciplinary and interdepartmental effort that establishes a long-term vision for sustainability with meaningful short and intermediate-term goals. The plan builds upon our past accomplishments and continues to support the university's goal of integrating sustainability into our administrative, academic and operational processes. The plan has been divided into four consumable sections, and each area of focus has been given an icon. While each section represents a specific measurable goal, they are all interrelated and reinforce Lehigh's overall commitment to sustainability.
By staying committed to integrating sustainability throughout the university, Lehigh strives to create a campus that merges environmentally responsible solutions with equitable community practices. Through institutional policies and programs that integrate sustainability into work, research and learning—such as a policy to reduce energy consumption and greenhouse gas emissions— Lehigh seeks and embraces new solutions that support longterm sustainable change.
Highlights from the Campus Sustainability Plan 2020
Progress Report
2012 Sustainability Progress Report