Lehigh University has a battery recycling program coordinated by Environmental Health & Safety and the Office of Sustainability. Two clear plastic battery recycling bins, labeled Rechargeable Batteries and Alkaline Batteries, are located in 13 locations (see below) throughout campus.  Please cover all terminals with adhesive tape prior to disposal.  
Where Do I Recycle Batteries?
Chemistry Department Office (393 Mudd)

Environmental Health & Safety (211 Warren Square)

Facilities Services (461 Webster Street)

Fairchild Martindale Library (Main Floor)

Iacocca Hall (1st Floor near C/D Wing Intersection)

Lamberton Hall (Foyer)

Lewis Lab (Room 212)

Packard Lab (Room 124)

Packer House (Lower Level)

STEPS (Lower Level)

Transportation Services (126 Goodman Drive)

University Center (1st Floor Main Lobby)

Whitaker Lab (Room 470)

3rd and New St (4th floor kitchen)
What Batteries are Recyclable?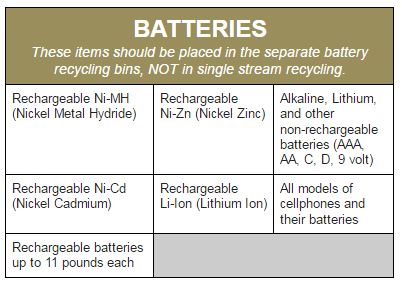 Download a copy of our battery poster.
Questions?
For more information contact Elaine Kuchera (ex. 84248 or emk3@lehigh.edu) or visit Lehigh University's Environmental Health and Safety Department's website: www.lehigh.edu/~inehs.