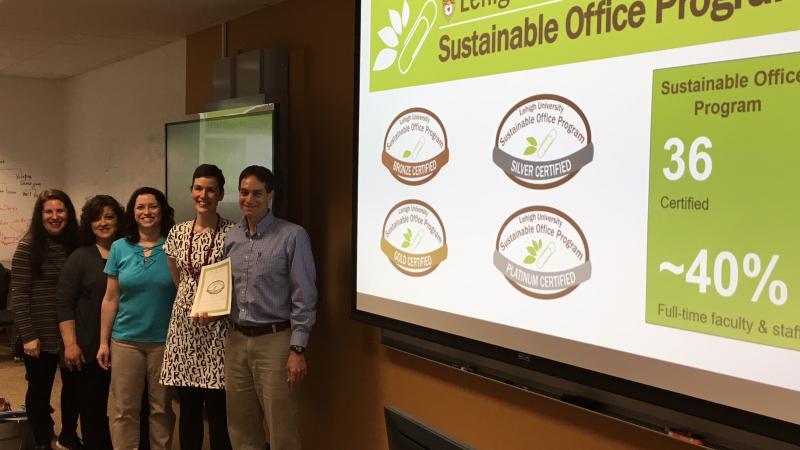 The College of Education (COE) just became Lehigh's first platinum certified college through the Sustainable Office Program! The COE is located in Iacocca Hall on Lehigh's Mountaintop Campus. We hope that the other colleges will follow the College of Education's example and lead  to make their spaces more sustainable through the Sustainable Office Program.
Becoming platinum certified is not an easy task to accomplish. An office must complete at least 125 of 175 specific sustainable actions on the Sustainable Office Program's checklist of actions. The College of Education checked off 139 sustainable actions, the most ever! 
Dr. Al Bodzin took the lead in guiding the College of Education to achieving its platinum level certification. When asked why COE decided to become certified Dr. Bodzin said, "Our College strives for a future devoid of natural-resource depletion, an equitable distribution of resources, and social systems that promote justice and peace. We are committed to doing our part through our personal and communal actions." In addition, he added that, "We are proud to have our faculty and staff commit to making important behavior changes with our consumptive practices and deepen our engagement around sustainability.  Sustainability involves environmental protection, fiscal equity, and social justice. We are especially proud of our efforts to integrate sustainability across our curriculum and as a college, we are committed to these efforts."
If your office is interested in joining the Sustainable Office Program, you can take the first step and register here.  We look forward to working with you to promote sustainable practices in the workplace!