Wednesday, October 13, 2021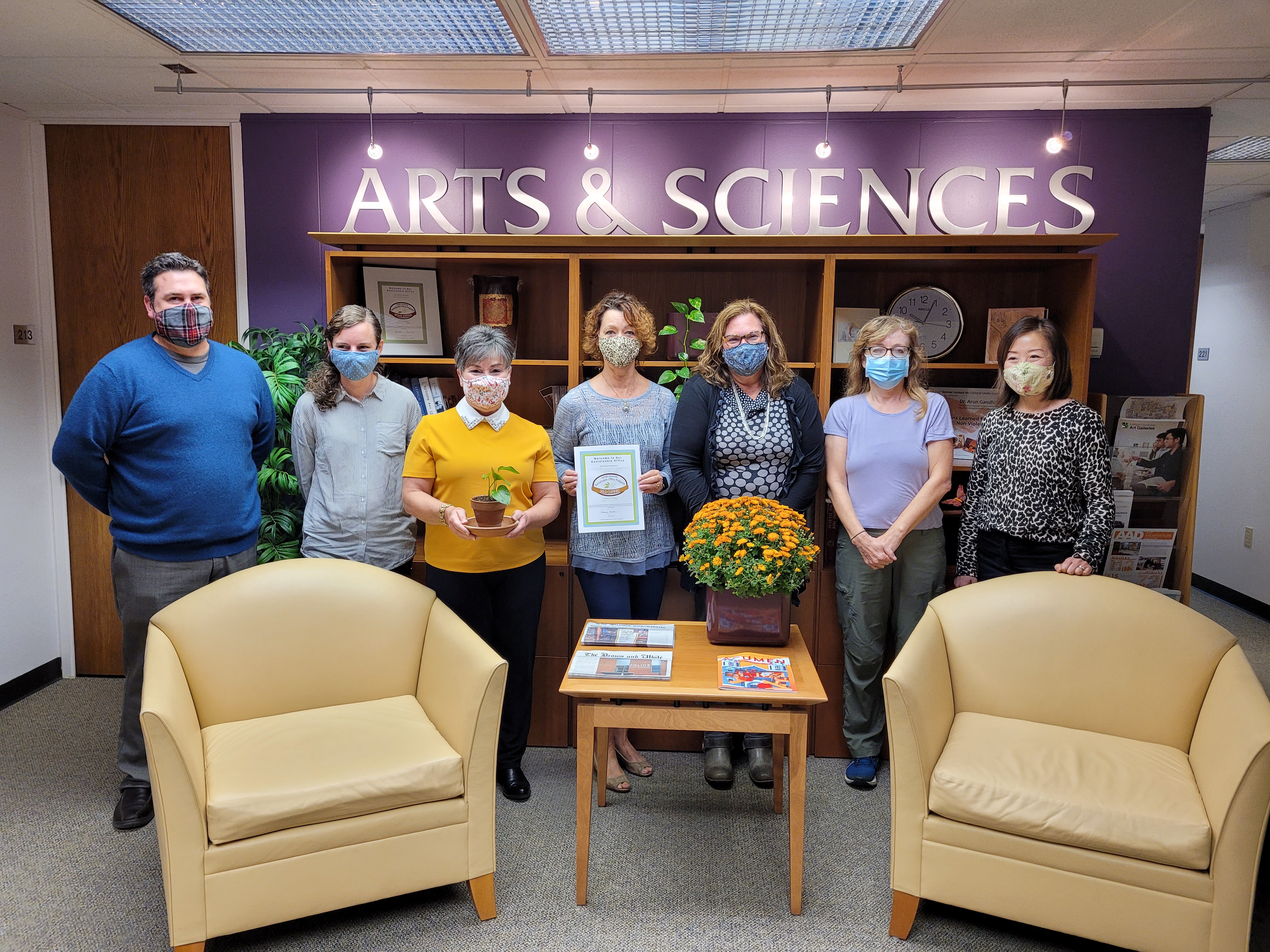 As fall comes into full swing, the Office of Sustainability is thrilled to award the College of Arts & Sciences Dean's Office with a gold recertification in the Sustainable Office Program! Located in Suite 223 in Maginnes Hall, the CAS Dean's Office leads the largest and most diverse college, being home to the social sciences, arts, humanities, and natural sciences. Dr. Robert Flowers serves as the Dean of the college, and there are 20 full-time faculty and staff members that run the CAS Dean's Office. 
Originally completing the program in 2017 with 36 sustainable actions, the CAS Dean's Office has now completed or committed to 100 actions, making it the 11th gold-certified office on campus. The Office of Sustainability had the pleasure of working with Vicki Ruggiero, Coordinator for Faculty Affairs, who acted as the Sustainable Office Representative throughout the program. We would like to thank her for her dedication and enthusiasm for her office's success. When asked about their experiences in the Sustainable Office Program, the CAS Dean's Office faculty and staff said that they are, "doing our collective part for ourselves and Lehigh, to ensure a healthy working environment and to promote sustainability across campus." The Office of Sustainability appreciates the CAS Dean's Office for taking the initiative to achieve recertification, showing their dedication and commitment to contribute to Lehigh's sustainable culture. 
The Sustainable Office Program is a voluntary, self-guided initiative, where individual offices can take the lead in promoting sustainability in the workplace. Faculty and staff who decide they want to work toward greening their workspace simply register for the program, take a general audit of their office space, and then fill out a checklist of actions.If your office would like to become a sustainable leader on campus you can register here, or email sustainability@lehigh.edu to learn more.