Friday, September 10, 2021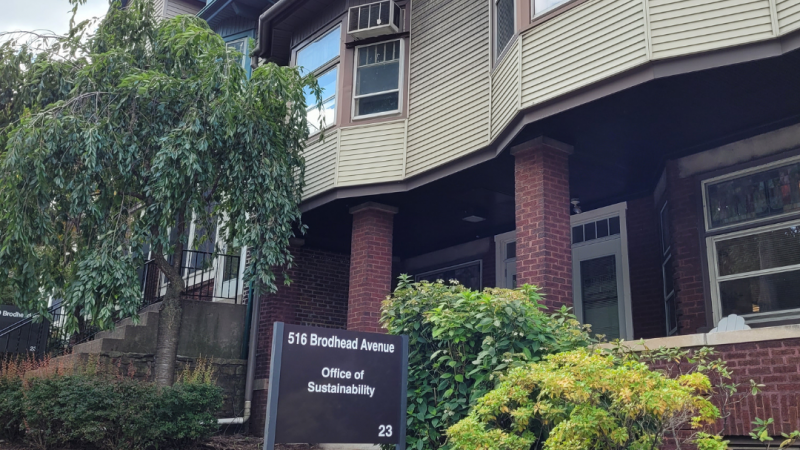 The Office of Sustainability has recently been certified platinum under the Sustainable Office Program! The Office of Sustainability is located at 516 Broadhead Avenue and has the mission to "advance solutions to support long term sustainable change in Lehigh's operations, academics, administration and community. The office is run by two full-time staff members, Katherine-Targett Gross and Audrey McSain, along with two graduate students and a large team of undergraduate students. 
With 140 actions completed, The Office of Sustainability has become the 9th platinum-certified office of 47 total certified offices. "I am thrilled to announce the Office of Sustainability has received platinum certification in Lehigh's Sustainable Office Program," said Katharine Targett Gross, Sustainability Officer.  "We want the campus community to see that our office is 'walking the talk' in doing all that we can to be as sustainable of an office as possible." 
Striving for certification through the Sustainable Office Program has been in the pipeline for quite a while, but was held up due to a move across campus, incorporating some sustainable updates, and remote work. "Prior to the pandemic, the Office of Sustainability relocated from STEPS to 516 Brodhead.  Through the support of a grant, we made some sustainability upgrades to 516 Brodhead including working with LU Facilities to relamp the light fixtures to LEDs with motion sensors.  Now that we have completed the upgrades, we decided it was time to work on the Sustainable Office Program certification." 
The Sustainable Office Program is a voluntary, self-guided initiative, where individual offices can take the lead in promoting sustainability in the workplace. Faculty and staff who decide they want to work toward greening their workspace simply register for the program, take a general audit of their office space, and then fill out a checklist of actions. Katherine also said, "We hope other offices and departments will join us in going through the Sustainable Office Program certification process.Together, we can make a difference and help Lehigh achieve its sustainability goals." If your office would like to become a sustainable leader on campus you can register here, or email sustainability@lehigh.edu to learn more.