What is RecycleMania?
RecycleMania is a national waste diversion and recycling competition against colleges and universities to promote waste reduction activities in campus communities. Over an 8-week period each spring, colleges and universities report the amount of recycling and trash collected each week and are in turn ranked in various categories based on which schools recycle the most on a per capita basis, as well as which schools have the best recycling rate as a percentage of total waste and which schools generate the least amount of combined trash and recycling.    Lehigh has participated in the RecycleMania tournament for the past five years.
What is recyclable at Lehigh?
Lehigh has single stream recycling.  Clean cans and bottles (plastic containers (#1#2#4#5#7)) can be mixed together with paper and glass. Learn more about recycling at Lehigh! 
How can YOU get involved in RecycleMania and help Lehigh win?
The more people who get involved by recycling and reducing the amount of waste they generate, the better chance Lehigh has at winning this national competition!
• Re-familiarize yourself with what can be recycled on campus
• Post a recycling flier and trash flier above your recycling and trash bin
• Recycle all paper, cans, and plastic and glass bottles in the single stream recycling bins across campus and reduce the amount of waste you generate
• Avoid using Styrofoam, it is not recyclable
• Use a reusable mug or water bottle so you don't need to buy plastic water bottles or use single use coffee cups and bring your own reusable bag when you go shopping
• Faculty and staff: swap out your 7 gallon desk side trash bin for a mini bin.  Register here.
• Attend one of the many upcoming Recyclemania events upcoming events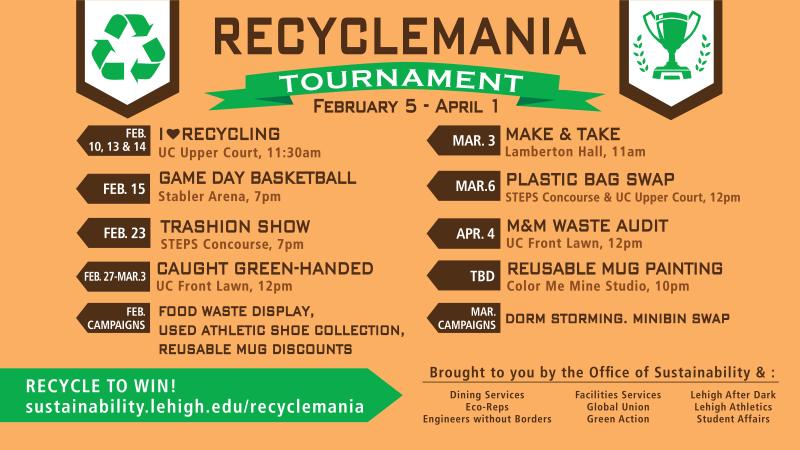 What are the goals of RecycleMania?
• Motivate students and staff to increase recycling efforts and reduce waste generation.
• Generate attention and support for campus recycling programs.
• Encourage colleges to measure and benchmark recycling activity in their effort to improve their programs over time.
• Have a fair and friendly competition.
Current Results
With each week's updated ranking, participating schools follow their performance against other colleges and universities and use the results to rally their campus to reduce and recycle more.  Results are posted weekly on the RecyleMania website. Track Lehigh's progress and standings throughout the competition and help us reach our goals!
National recognition is provided to the winning school in each category on the RecycleMania website and in a national press release. Winning schools receive an award made out of recyclable materials, and win the right to host that category's special traveling trophy for the coming year.
2017 Results

Past Results