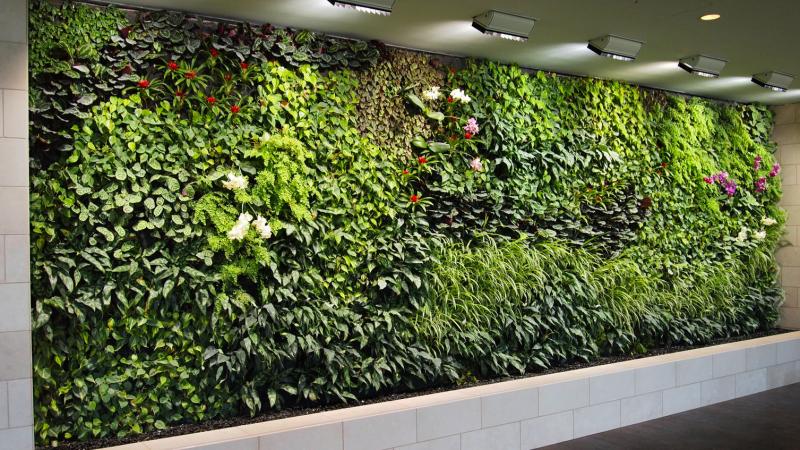 A Lehigh campaign is currently underway to raise money to install a biophilic wall, or "living wall", in the new Health Science and Technology building.  It would be the first of its kind on campus! The wall would be located in the northeast lobby (300 sq ft) of the building, which faces the south Bethlehem community. This space welcomes the nexus of community partners, students, and visitors touring the building.
A biophilic wall is a way for industrialized, urban centers to bring back their connection with the natural world and create environments for people to live, work, and learn. By consciously including nature in interior or architectural design, we are unconsciously reconnecting; bringing the great outdoors into our constructed world.
There are many benefits to including a biophilic wall within urban architecture. They improve the air quality by removing toxins and replenish the air with a natural oxygen source. Biophilic walls also remove airborne bacteria and moderate their environment's humidity. Aside from the physical benefits, living walls also contribute greatly to the emotional well-being of those who share its space. They have been found to increase productivity for workers, who spend about 90% of their time within a building. Different designs can be tailored to have different effects, with some focusing on reducing stress levels and improving cognitive function. It's a great way to construct a space that is both positive for the well-being of its coinhabitants while also reconnecting us with the natural world.
You can support this project by donating here before August 1st, 2019. This distinctive feature embodies the importance of symbiosis between human health and natural systems in our built environment.  To learn more about this campaign and to view real-time campaign progress, visit: https://sustainability.lehigh.edu/biophilic-wall.