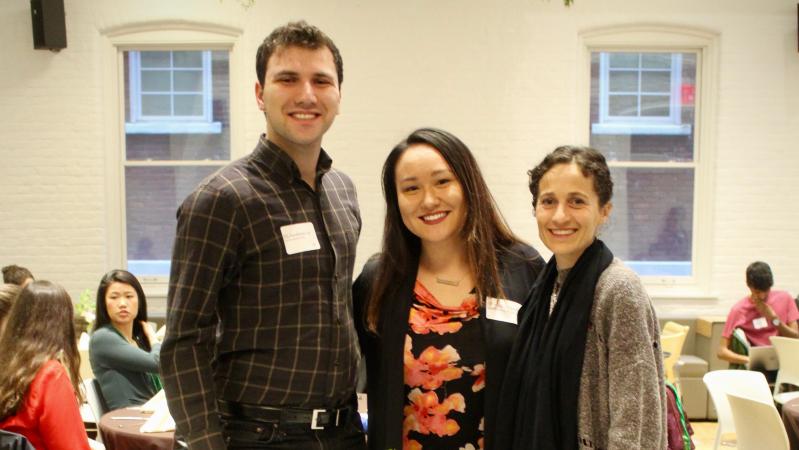 On April 26th, the Lehigh Sustainability Council, in collaboration with the Office of Sustainability, hosted the inaugural Sustainability Leadership Summit. This dinner event provided an opportunity for campus community members working on sustainability issues to come together, celebrate progress and accomplishments, and ignite dialogue for how to further address sustainability leadership and innovation challenges at Lehigh and beyond.  It was also an opportunity to recognize graduates who were involved with sustainability at Lehigh as well as recognize the contributions of Lehigh community members and friends of Lehigh in advancing sustainability initiatives on campus.
During the Summit, six awards were presented spanning students, faculty, staff, and community organizations.  These awards were based on nominations received by faculty, staff, and students during the spring award nomination period.  Awardees were selected by a committee composed of members of the Lehigh Sustainability Council and the Office of Sustainability.  The committee based its decisions on overall award criteria, which included meeting and exceeding campus sustainability goals, engaging the community in an ongoing dialogue, integrating sustainability into existing campus programs, instilling a culture of generating transformative ideas, and encouraging sustainable long-range planning and forward-thinking design.
The 2019 award recipients were:
Matthew Fainor, Undergraduate Student Sustainability Award: For his influential behavior among peers and continued commitment to his event-coordinating role within the Eco-Reps Leadership Program.

Lauren Fosbenner, Graduate Student Sustainability Award: For her work in the Environmental Policy and Design Program, publications impacting sustainability, and involvement with the Nurture Nature Center.

Breena Holland, Faculty Sustainability Award: For her work in bridging community and university efforts to address environmental health and sustainability. Holland is also an active contributor to the Environmental Initiative, a leader for the Environmental Policy and Design graduate program, and the visionary behind SSI's community garden.

Andrew Januszak, Staff Sustainability Award: For his work as a staff advisor for the Beekeeping Club, supporting students as a prelusion sustainability leader, his active membership with the Lehigh Sustainability Council, and leading the LTS Help Desk in achieving higher level certification within the Sustainable Office Program.

Development and Alumni Relations, Sustainable Office Program Award: For their creation of a Sustainable Office Committee to achieve platinum certification in the Sustainable Office Program.

Lit Coffee Roastery & Bake Shop, Friend of Campus Sustainability Award: For their partnership with Lehigh in bringing local and organic products to our community, as well as supporting social equity through showcasing local artists and igniting dialogue. They have also been the host of Sips & Sustainability for the past year, a social gathering for like-minded peers to relax and talk about sustainability.
To further the discussion about sustainability initiatives at Lehigh, summit attendees were prompted with two topics that were then followed by discussion. First, attendees were asked to describe their vision for a more just and verdant Lehigh in 2030. They were also asked, "What would be an innovative campus sustainability project that we should pilot next year?"  The night concluded with acknowledgements and the opportunity for attendees to mingle and network.
Plans for next year's Sustainability Leadership Summit are already underway as April 22, 2020 will be the 50th anniversary of Earth Day and the year 2020 will be the tenth anniversary of the Office of Sustainability at Lehigh.  A big celebration is in order!