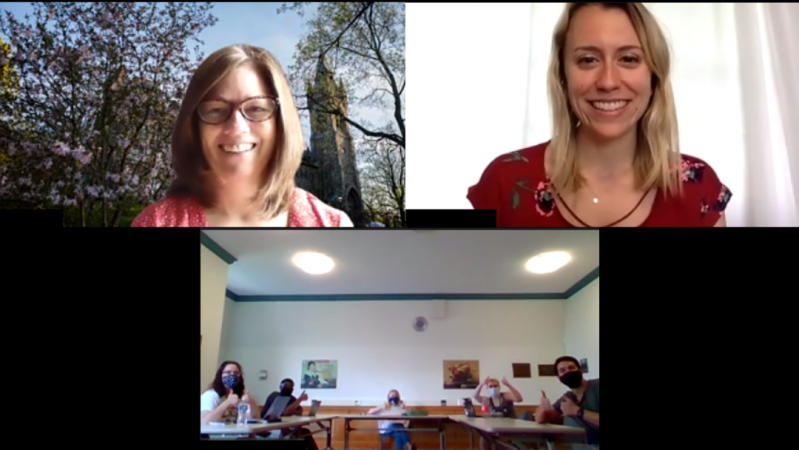 Just as the Spring 2021 semester at Lehigh came to an end, the Office of Sustainability was tremendously excited to award Student Center Facilities with a Platinum Certification under the Sustainable Office Program. Located in the University Center, Student Center Facilities strives to "offer programs, activities, and services that will cultivate and enhance the living and learning experiences in our comfortable and inviting environments." The office is directed by Carol Hill and has three additional full-time staff members, along with a whole team of student assistants that took the lead on attaining the platinum certification to encourage a sustainable culture here on Lehigh's campus.
Student Center Facilities in the University Center is the second office to be certified under the Office of Sustainability's revamped Sustainable Office Program with 130 Sustainable Actions completed. Student Center Facilities also marks to be the just the 7th platinum-certified office on campus out of 45 total certifications. The Office of Sustainability would like to thank Ben Burkhart '22 for his enthusiasm and strong communication throughout the process and the entire student team that worked together with full time staff to fulfill their certification. Ben described the office's experience in the program by saying, "The sustainable office program challenged the Student Center Facilities Office to understand Lehigh's sustainability efforts better, and allowed us to clearly implement initiatives, both small and large, that help contribute to our sustainability goals as well as the goals of the university."
 The Sustainable Office Program is a voluntary, self-guided initiative, where individual offices can take the lead in promoting sustainability in the workplace. Faculty and staff who decide they want to work toward greening their workspace simply register for the program, take a general audit of their office space, and then fill out a checklist of actions. If your office would like to become a sustainable leader on campus you can register here, or email sustainability@lehigh.edu to learn more.
By: Ben Murphy-Schemhl '24